House Minority Leader Nancy Pelosi on Tuesday laid out a grand vision late Tuesday after it appeared her party was poised to regain control of the House of Representatives.
Pelosi told a Washington audience that the Democrats' victories in House races on Election Day signified "restoring the Constitution's checks and balances" on the Trump administration.
AMERICA WILL GET NANCY PELOSI'S SAN FRANCISCO VALUES IF DEMOCRATS TAKE THE HOUSE
"It's about stopping the GOP and [Senate Majority Leader] Mitch McConnell's assault on Medicare and Medicaid, the Affordable Care Act, and the health care of 130 million Americans living with pre-existing medical conditions," she said.
Pelosi vowed that a House controlled by Democrats will work on behalf of ordinary Americans to make health care more affordable, raise workers' wages, and reinvest in infrastructure to "create more good-paying jobs, (rebuild) roads, bridges schools, water systems, broadband networks, schools and housing and beyond."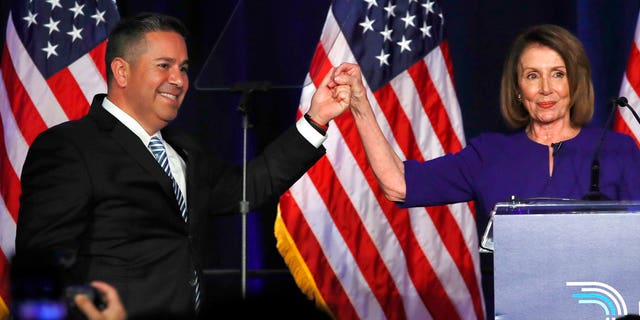 Pelosi promised a transparent and open Democratic House "so that the public can see what's happening and how it affects them and that they can weigh in with the members of Congress and with the president of the United States."
"We will have accountability, and we will strive for bipartisanship with fairness on all sides. We will have a responsibility to find our common ground where we can (and) stand our ground where we can't," said, adding: "We have a bipartisan marketplace of ideas that makes our democracy strong. We have all had enough with division."
Not everyone was on board with Pelosi's ostensible calls for bipartisanship, with some on social media criticizing Pelosi's rhetoric for being too presumptuous, the San Francisco Chronicle reported.
"Pelosi is promising bipartisanship and Dems are nowhere near winning yet. They've learned nothing," wrote Nora Biettetimmons before the House had been called for the Democrats.
"Either straight-up resign, or tell me when in the last decade Republicans have showed even the remotest spirit of bipartisanship when they held the reins," wrote another user cited by the Chronicle.
Later in her speech, Pelosi evoked the Founding Fathers: "The founders could never have imagined how vast our country would become, how many we would be, how different we would be from each other. But they knew we had to be one. Unity, unity for our country."
She said the outcome of Tuesday's midterms was a restoration of the Founding Fathers' vision.
"[T]oday the American people have spoken to restore that vision. … The new Democratic majority will honor the vision of the founders, for a country – having a legitimate debate – but remembering that we are one country," she said.
President Trump reportedly called Pelosi before midnight to congratulate her on the House victory. Pelosi's deputy chief of staff Drew Hammill said the president acknowledged her call for bipartisanship.
The Associated Press contributed to this report.