The medical charity said its treating critically ill children for diseases that can be vaccinated against.
SEVERAL YEARS OF fighting has led to the deaths of almost half a million people in South Sudan through violence and disease. 
South Sudan declared its independence in 2011, however it has been embroiled in a civil war for several years between government and opposition forces. The conflict saw opposition leader Riek Machar flee the country. 
In recent weeks a 'revitalised peace deal' has been agreed, however the agreement has been met with skepticism from international leaders. 
The deal was met with celebrations in Juba last week, and saw Machar return to the country. David Shearer of the United Nations mission in South Sudan said it was a positive step forward:
On his return Machar addressed several thousand people gathered in Juba: 
South Sudan President Salva Kiir said Machar's return marked the end of the civil war and warned the "prophets of doom" who were waiting for another explosion in Juba that peace was here to stay. Addressing the South Sudanese people directly, Kiir apologized for five years of brutal fighting and said the responsibility falls on his shoulders.

MSF's Dr Mark Sherlock at work in Aweil hospital in South Sudan.

Source: MSF
Humanitarian Crisis
However despite the renewed peace efforts, South Sudan is in a dire state. It has virtually no infrastructure in the way of roads and its health service is mainly run by international charities. 
The issue is set to be addressed at an event in Dublin next week, organised by Médecins Sans Frontières. 
The charity has been working in the region for over 30 years with 16 projects currently in operation there. 
Dr Mark Sherlock works out of the charity's maternity and pediatric department at Aweil hospital.
Speaking to TheJournal.ie from Guatemala, he said the situation in South Sudan is a "forgotten conflict". 
Sherlock said often the diseases patients suffer from can be vaccinated against and are easy to treat in the early stages, but that access to medication is a serious problem. 
At the height of the malaria season the facility will often see 200 children a day who are seriously ill. 
Sherlock said malnutrition leads to a number of health complications for children in particular: 
He said many of the conditions they see in South Sudan are confined to the past in places like Ireland because of access to vaccines and basic healthcare: 
Sherlock said the emphasis is on providing lifesaving healthcare and "that's why we spend so much time out in the community". 
MSF doesn't accept money from governments in a bid to remain independent and so is reliant on private donations.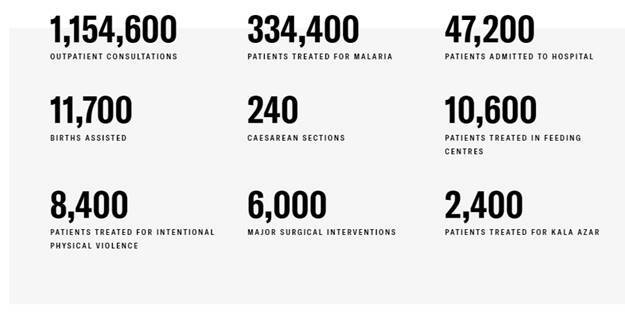 Source: MSF
MSF saw over 1.1million patients in 2017, 334,400 of those had malaria, 10,600 were suffering from malnutrition and 8,400 were treated for injuries sustained through violence. 
The charity has over 3,000 staff in South Sudan 300 of whom are international with the remainder being hired and trained locally. 
Doctor Mark Sherlock will be speaking about his time working for Médecins Sans Frontières (MSF) in South Sudan at a public event from 6.30pm on Thursday 15 November, at Waterways Ireland Visitors Centre. 
– Reporting from Juba by AP