Ahead of launching her first solo exhibition Medjber talks about life in a 'boys club'.
RUTH MEDJBER GREW up surrounded by cameras, so it wasn't a surprise that she wanted to become a photographer. However a life in Ireland's music industry wasn't the obvious choice.
A daughter of Irish Algerian parents Medjber's father ran a camera shop in Dublin. "If times were tight around birthdays and Christmases he used to give me a camera", said the now highly respected photographer.
Like many Dublin teenagers Medjber hung around the central bank "with the other goth kids". It was there she discovered 'Blast gigs', teenage friendly music concerts, where photographer Roger Woolman formerly of Hot Press reigned supreme.
Medjber said her father initially tried to discourage her from the industry saying it was "a boys club," but that wasn't enough to turn her off:
She went on to do an undergraduate degree in Photography at DIT, "to have something to fall back on if needed", but before she finished the programme Medjber was already working in Hot Press and as a freelancer at gigs. Medjber said she was determined to break into the industry and advises anyone interested in following a similar path, to start working on it straight away:

David Grohl of the Foo Fighters

Source: Ruth Medjber
Boys club?
As for the industry being a boys club? Medjber said as it's the only industry she has ever worked in, it's difficult for her to compare it to another:
Ruthless
In an industry which is by its very nature highly competitive Medjber works under the moniker Ruthless imagery. She said in order to keep on top of the game she constantly has to push herself beyond her previous work:
Medjber admits being a music photographer isn't as glamorous as the title suggests, "it's a really hard job, with really long hours. Most of your friends are at gigs  to enjoy it, but your there waiting on the band to come out on stage, frequently in the pouring rain". However she said "as soon as the band comes on stage you forget everything else".
Now a respected member of the industry, Medjber has worked hard to make the career viable for her. She said it's not a job to get into, if you are looking to get rich: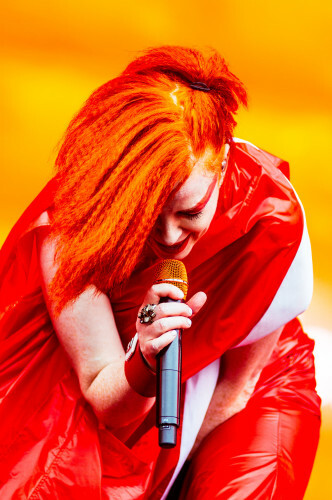 Source: Ruth Medjber
 A decade on 
This new exhibition was a spur of the moment decision, that will reflect on a decade in Ireland's music scene.
The list of bands and starts she has photographed reads like a who's who of the global music industry, from Metallica to LCD Soundsystem, Jay Z, Grace Jones, Leonard Cohen and Dua Lipa,  to homegrown heroes like Le Galaxie, All Tvvins, Lisa Hannigan and many more.
Medjber set herself a challenge of hosting the exhibition in a post on social media.
Her hard-drive failed in 2008 and Medjber lost "everything", all her images, so the exhibition looks at a decade of live music photography.  She said it's about focusing on Ireland's "wonderful culture of musicians":
Music photography is something very different to other art forms, it's very subjective. If someone doesn't like the band they're not going to love the photograph.
It will also be the first time Medjber exhibits work from her recent European tour with Canadian act, Arcade Fire. In a nod to the band's own charitable ethos, the profits from the sale of these images will be donated to the many people living in Direct Provision in Ireland.  Given her connections it's no surprise Medjber has been offered the support of the industry in order to get the exhibition up and running.
It will launch on the 23rd of November in Fumbally Exchange with Claire Beck and Mick from Le Galaxie on DJ duties.
The exhibition will be one of the last in Fumbally's current home as it's been forced to find alternative accommodation from next year, hopes are high it will be able to reopen in the Liberties in 2019.
Art exhibitions are notoriously expensive to create, so Medjber has launched a fundit campaign in order to make the vision become a reality.
Ruthless: A Decade of Live Music Photography runs from 23 November to 2 December at Fumbally Exchange, Dame Lane, Dublin 2. You can find out more about Medjber here.