Councillors in Dublin rescinded the honour in December 2017.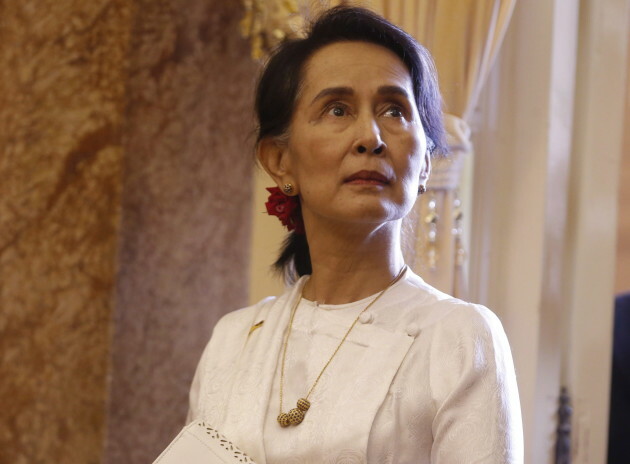 Myanmar's Aung San Suu Kyi's.

Source: Kham/PA Images
GALWAY CITY COUNCIL has voted to revoke the freedom of Galway from Myanmar leader Aung San Suu Kyi. 
Suu Kyi was awarded the Freedom of the City by councillors in 2005 but amid increasing international concern over the persecution of Rohingya Muslims in Myanmar, councillors moved to strip the Nobel laureate of the honour.
Councillors in Dublin rescinded the award in December 2017 after Suu Kyi – the de-facto leader of the country – remained silent on the persecution of the Rohingya. 
This afternoon, councillors in Galway City did the same by voting overwhelmingly in favour of revoking 2005′s resolution to award Suu Kyi. 
Galway City Council Rescinded Freedom of Galway from Aung San Suu Kyi today.
14 Councillors voted in favour and 2 abstained
Thank you to all the Councillors who voted for a yes #Galway4Rohingya #WithRohingya #Galway
©️ @RohingyaIrl pic.twitter.com/gvHJTOaop0
Most recently, two Reuters journalist accused of breaching Myanmar's state secrets law while reporting on a massacre of Rohingya Muslims were jailed for seven years.
The case has sparked an outcry among the international community as an attempt to silence reporting on last year's crackdown by Myanmar's security forces on the Muslim Rohingya minority in Rakhine state.
Suu Kyi has continually refused to intervene in the case of the reporters, describing it as an issue for the courts.
The Rohingya Action Ireland group has campaigned to have the Galway City freedom removed from the Myanmar leader. Welcoming today's decision, the group thanked those who voted to revoke the honour.