2018 has put him to the test, but Charlton Athletic's Irish playmaker is finally closing in on a return.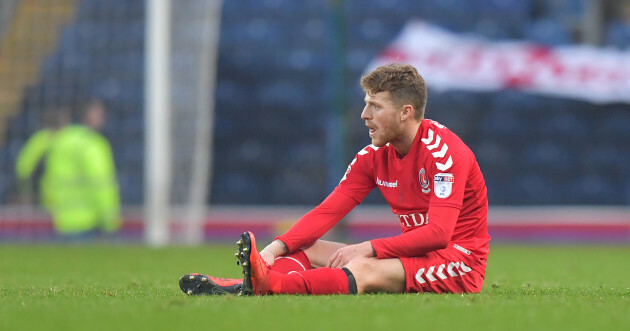 Billy Clarke reacts after tearing his anterior cruciate ligament last December.

Source: Dave Howarth
THE SNAP OF an anterior cruciate ligament was a familiar sensation to Billy Clarke. The same issue had already cost him an opportunity to play in the Premier League. Seven years later, the experience remained fresh in the memory.
After 21 minutes of last season's fixture away to Blackburn Rovers, Charlton Athletic fans watched their number 10 hobble off the Ewood Park pitch with the aid of medical staff. 
When an ACL rupture to his left knee was confirmed afterwards, Clarke knew what was ahead of him. Having suffered the injury in his right knee during Blackpool's pre-season preparations for the 2010-11 campaign in England's top flight, the Corkman had been down this long road before.
Almost 11 months have passed since his last involvement with Charlton's first-team, but a return is imminent. At the age of 30, aspiring to play reserve team football is something Clarke thought was a thing of the past. Nevertheless, being eased back into action with the club's U23 side in recent weeks was an immensely satisfying objective to achieve.
"It just felt so good to be out on the grass with the lads," he says. "I sort of isolated myself from everyone all year and became obsessed with gym work and the physical side of things. I switched off completely from the lads, so to be back amongst them has been a really good feeling."
Another box ticked for @billyclarke7 ✅
He powered home a sumptuous volley for our U23s against @BristolCity on Monday, as he continues the final stages of his injury comeback 👏 #cafc pic.twitter.com/urUDs3FvWl
The process of overcoming a long-term injury is a footballer's equivalent of solitary confinement. While team-mates remain in the spotlight, striving for results and bonuses and adulation from fans, a wounded player is imprisoned by a monotonous routine.
Trips to the treatment table provide the only freedom from the quarantine of the gym. A period which is geared towards physical recovery can often inflict psychological damage.
"Don't get me wrong — it's been the hardest 10 months I've ever gone through," he says. "There were lonely times, especially during the summer when I was in working and everyone else was off on holiday.
After undergoing surgery to rectify the problem in his knee on 4 January, Clarke immersed himself in the rehabilitation. Everything has gone according to plan in his bid to return to full fitness, but away from football there was a significant obstacle to overcome.
Earlier this year, Clarke and his wife Kate — the parents of two sons — were expecting their third child. Following a challenging few months during which he gradually came to terms with being robbed of another year of his career, the news of Kate's pregnancy was a breath of fresh air.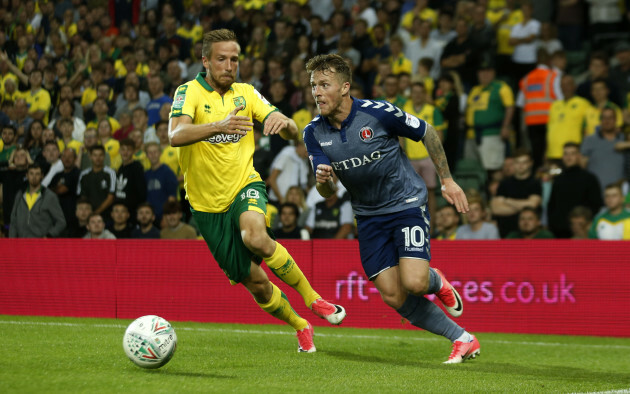 Clarke under pressure from Norwich City's Marco Stiepermann.

Source: Paul Harding
However, the couple's joy eventually turned to despair. At 12 weeks, Kate suffered a miscarriage.
"That 12-week mark is generally the stage where you're able to tell all your family and friends, so naturally enough we were quite excited about letting people know that we had a baby on the way," Billy Clarke explains.
"Then to get the news that something wasn't right… it hits you fairly hard. It was quite tough at the time. It still is, to be honest."
A trying time for Billy and Kate Clarke was made more difficult by the distance that separated them. After his transfer from Bradford City to Charlton in the summer of 2017, Billy relocated to London while his wife and sons had stayed behind at the family home in Yorkshire.
"When you're having to recover from a long-term injury to keep earning a living, it's an every-day thing. It was something I had to get back to because your career is essentially on the line.
"For obvious reasons, what happened is something that resonates more with the mother. I suppose people kind of forget about the father in that situation, but at the same time it was probably easier for me as well because I had a distraction.
"It was really hard for Kate, obviously. After she brought the boys to school in the morning, she had a lot of time to think. She's been incredibly strong throughout the whole thing. Amazing, really."
I would like to say your reaction to my wife's letter is incredible and overwhelming. We hope it helps people who are and will go through a similar experience. You don't need to bottle it up. It's ok to talk about it. Thank you again 💙❤️
In the hope that it might strike a chord with others who have endured similar trauma, Kate recently wrote about her experience in a post which she and Billy then shared online. The feedback was overwhelming.
"It seems to be a bit of a taboo subject so she just wanted to shed some light on it," Billy explains. "Most people who go through it keep it to themselves, which is understandable. But it seems to be very rarely spoken about, which is maybe strange because I think it's something like one-in-four women who experience it.
"Kate decided to write from her own experience, thinking that it might help people who have gone through the same thing. The response was pretty incredible.
"I felt bad, to be honest, because our experience was relatively minor in comparison to people who miscarried at 25 weeks or had stillborns. People go through a lot worse than what we did. But it did seem to open people's eyes to it, which I think is a good thing."
This year has put Billy Clarke to the test, yet he remains confident of extracting something positive from 2018. He hopes to make his long-awaited comeback for Charlton in tomorrow's meeting with Mansfield Town in the first round of the FA Cup, a competition that has provided him with some fond memories.
In 2015 he was a member of the Bradford City side that reached the quarter-finals by eliminating Chelsea with a 4-2 victory at Stamford Bridge, before a 2-0 win over Sunderland in which Clarke opened the scoring with a strike that deflected in off John O'Shea.

Clarke celebrates after scoring for Bradford against Sunderland.

Source: Richard Sellers
Alongside winning the Championship play-offs at Blackpool in 2010, that cup run is among the highlights of a professional career that began with a first-team debut at 17 for Ipswich Town, with whom he also won the FA Youth Cup.
The versatile attacker — who feels he's at his best while operating as a playmaker in the hole behind a striker — now intends to play a part in a successful promotion bid for the fourth time in his career.
He scored six times in eight appearances during a loan stint to help Brentford win the League Two title in 2009. During another temporary spell three years earlier he played a part as Colchester United made the leap up to the Championship.
Charlton — minus the injured Billy Clarke — reached the League One play-offs last May, losing their semi-final to Shrewsbury Town. Lee Bowyer's side are currently well placed to attempt to go one better this season, their midweek victory over Walsall moving them into the play-off spots. The return of a fully fit Clarke won't harm their chances of staying there. 
"I've worked extremely hard to get back to fitness. I'll be doing everything I possibly can to get back to the level I was at. I certainly feel stronger, quicker and fitter now. I'll be looking to get back into the team as soon as possible and hopefully help us contend for promotion."
Clarke's final game as a Bradford player was at Wembley, where his team missed out on promotion after an 85th-minute goal sealed victory in the 2017 League One play-off final against a Millwall side that included Shaun Williams.
The example set by Williams is sure to have incentivised other Irish players in the same age bracket who have yet to crack the international set-up. At the age of 31, the Dublin-born midfielder made his Republic of Ireland debut against France in May.

Clarke rides a challenge from James Milner while playing for Ireland against England in a U21 international in 2009.

Source: Cathal Noonan/INPHO
Known predominantly for the creativity he can conjure with his left foot, Clarke possesses attributes which are in short supply among the range of players available to Martin O'Neill.
Proving that he's capable of using them at a higher level — such as the Championship — is likely to be required for the ex-U21 international, who's pragmatic about his prospects of representing his country at senior level.
"I watched some of the recent [Ireland] games and that is something that's lacking," he says. "Whether the manager finds that in the U21 team, or even younger, remains to be seen. But it's a long way from my thoughts at the minute, realistically. There's a lot I need to give to Charlton before that could become a possibility.
"It's a goal I'd never give up on, even though I'm sure they're looking at youth at this stage. But if I get back to my best form and back into the team here, and if the club is doing well, who knows?
"I'll be hoping more than expecting, but when it comes to playing for my country I'll probably always hope until I hang up the boots."
Subscribe to our new podcast, Heineken Rugby Weekly on The42, here:
Sports