And win or lose on Sunday, Mullinalaghta's James McGivney will be found on his farm after the game.
THE NUMBER OF full-time farmers who play inter-county hurling or football has become increasingly rare in the modern game.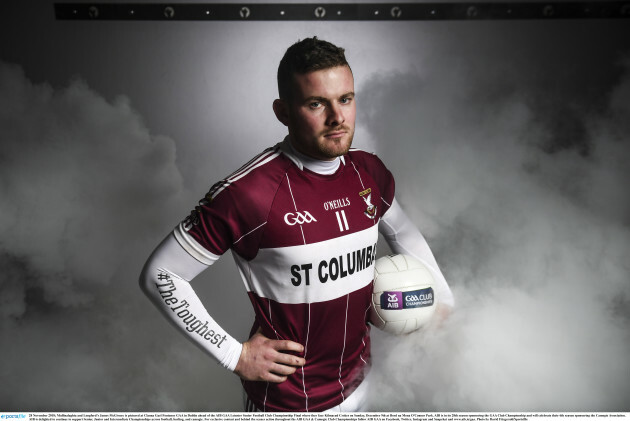 James McGivney is pictured at Clanna Gael Fontenoy GAA in Dublin ahead of the AIB GAA Leinster senior football club championship final.

Source: David Fitzgerald/SPORTSFILE
In the old days, it was farmers and labourers who frequently backboned county teams, with Wexf0rd's All-Ireland winning side of 1968 famously featuring eight farmers. 
Of the four panels that made it to last year's All-Ireland hurling semi-finals, 56 of the 104 players involved were either students or teachers. 
The increased demands of the inter-county game over the last 20 years have made it more difficult for players working manual labour jobs to commit.
Mullinalaghta centre-forward James McGivney left the Longford panel last March, before returning in time for the summer's championship campaign. The reason for his departure? He was needed on the beef farm at home.
"See, during the league is very hard because I'm a full-time farmer and that was our calving season," explains McGivney.
"That particular night, there was a dead animal because there was no one on the farm. So that really pushed me to take a break for a while until the calving season calmed down.  That's why."
Even with a Leinster club final to play on Sunday afternoon, McGivney and his younger brother David  – who plays at wing-forward or midfield – will be found on the farm before and after the game.
"Before club games on a Sunday morning, you have to be out on the field two or three hours before that to get your jobs done. Same with the football games on a Sunday.

James McGivney is tackled by Eoghan Ruth in the semi-final.

Source: Laszlo Geczo/INPHO
"Before the Leinster final this year, me and my brothers will probably do around two hours outside on the farm that morning, go to the game, come back home and do another two hours in the evening time. Go up then and enjoy a few pints or whatever."
It's not an issue too many of the Kilmacud Crokes players will have to deal with this weekend.  
As well as the McGivneys, there are a host of brothers on the Mullinalaghta team. 
"There's the two Rogers (Patrick and Gary), the goalie and the half-forward. There's two Mulligans (Shane and Francis), they're on the half-back line. 
"There's five McElligots. Two of them are starting (Donal and Aidan). There's two Foxes (Patrick and Brendan), the full-back and the full-forward. I'm definitely missing someone else, too. There's a lot of brothers on the team.
"If you're given out to in the games, you know no one gives out to anyone for no reason. We have that instilled in each other. When I see someone make a mistake I let him know.
"It could be the corner-back to the corner-forward. It doesn't matter. If any of them boys see me slacking off, they're going to let me know about it. There's no such thing as a leader in our group really. Everyone's a leader on the field."
With six players based in Dublin, two in Limerick and a host studying in Athlone, the club's small numbers mean the players are required to regularly make the arduous journeys home for training. 
"Football is the only thing keeping the community together," McGivney reasons. "If there wasn't football, there'd be a lot of lads moving (away) I'd say."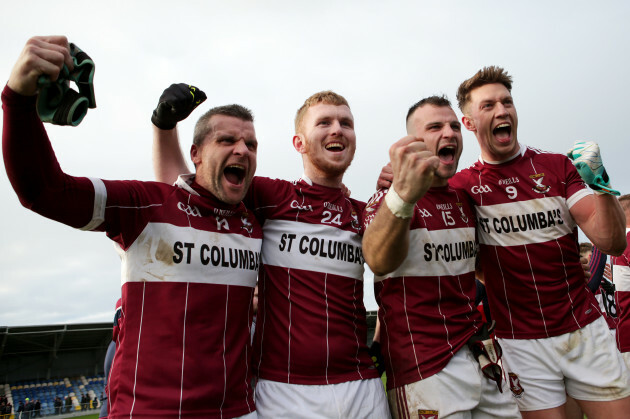 Mullinalaghta's Conor McElligott, Eoghan Keegan, Aidan McElligottand John Keegan celebrate the semi-final victory.

Source: Laszlo Geczo/INPHO
McGivney credits the father of the five McElligots, Dan, as one of the main men behind the recent run of success the club have enjoyed.
Between 1953 and 2013, the club didn't so much as reach a senior county final. But following a defeat in the 2014 final to Killoe Young Emmets, Mullinalaghta ended a 66-year famine in 2016 and haven't been beaten in the county since. 
"That's the most important time in anyone's career is getting the techniques right and Dan McElligot would have definitely been one of the lads that was instilling that in all of us.
"We'd been playing underage the whole way up and we'd been successful from U14 up. We were amalgamated from U14 to U18, so we were used to success in Longford, but when we went on our own it took us a while to get on our feet, that step from minor up to senior.
He can still vividly recall the manager's first speech in the winter of 2015 when he took charge.
"I remember the very first meeting Mickey Graham had with us three years ago, he said these opportunities come in cycles of years. He had one with Cavan Gaels and he said, 'Your opportunity is coming now, and it's up to you to take it.'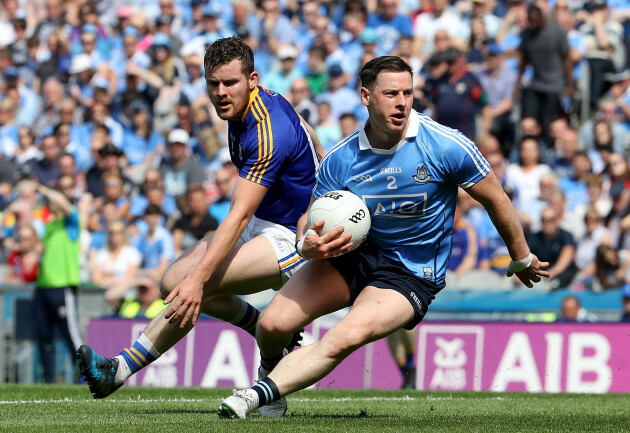 McGivney challenges Philly McMahon during last year's Leinster semi-final.

Source: Bryan Keane/INPHO
"We all bought into the cause that night and we worked really hard. Most trainings we came off the field, tight able to breath, tight sleep at night, you'd be that tired rolling and twisting in aches and pains. We're just starting to see the rewards of it now.
"He has us very well-drilled, if we concede a goal, no-one drops their head. If there's time on the clock, once the game is still on, there's always time to get it. He has that instilled in us. All credit to him, he's a serious manager, and he has us in the right position now."
Mullinalaghta are the first club from the county to reach a Leinster final, but that's not to say the players don't have experience of provincial deciders.
"I was on the 2010 team (that won the Leinster minor crown). Myself and John Keegan, there was a few of us on the team that got to the Leinster U21 final against Kildare in Wexford (in 2013). Some of us are used to getting to Leinster finals, albeit maybe not as successful as we'd like."
Subscribe to our new podcast, Heineken Rugby Weekly on The42, here:
Sports