Munster's long love affair with Europe has pitted tham against Castres more than any other side.
IT'S NOT JUST the fact that Munster met Castres in January that makes the impending back-to-backs feel a little more familiar, a little less exotic than some.
No two teams have faced off more often than these two over the history of the Heineken Champions Cup. In all, Castres Olympique have provided a hurdle for Munster 15 times since they met in the tournament's first edition back in 1995.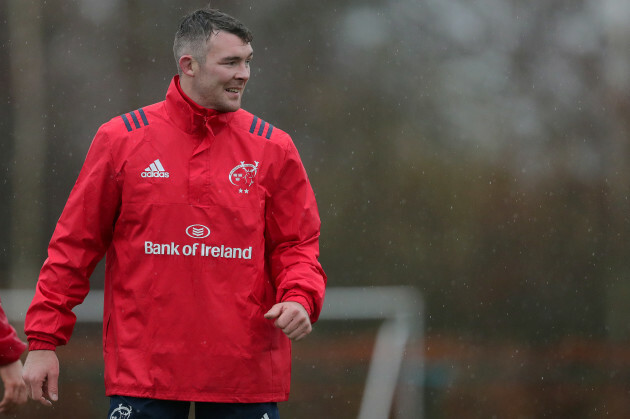 O'Mahony in training this week.

Source: Laszlo Geczo/INPHO
Munster lost that first clash in southern France, but it didn't ward them off this competition and they have suffered a reversal to Castres only twice since and not in the last seven meetings between the sides.
In analysing the reigning French champions, whose disinterest in Europe has so often left Irish fans scratching their heads at their fearsome reputation, Peter O'Mahony begins at the set-piece and finds himself touching on themes and strengths that also apply to his own team.
"They have some very good jumpers. Their pack is always what sets the tone for them. That's probably why we've a bit of a relationship with them. We're quite similar that way," says O'Mahony.
"They've a massive kicking game. They try and put a huge amount of pressure on, try and force penalties, and their line-out maul is hugely effective. So the discipline battle is going to be hugely important this weekend, and the less access we can give them with regard to penalties the better. Because they're very clinical when it comes to 15/20 yards out. Close in with their maul they're hugely effective."
The Munster captain, of course, comes into the Champions Cup back-to-backs after an interesting few weeks. Even for a Lions captain, earning man-of-the-match in a home win over New Zealand that was appointment viewing across the country brings a new level of notoriety to a man who has never sought out the spotlight and tends to wince when it comes his way.
His appearance on the Late Late Show a fortnight ago was a long way from his comfort zone, and the Dogs for the Disabled charity he promoted there appeared to be the swaying factor in his agreement to sit opposite Tubs.
Last Friday was much more familiar setting for O'Mahony. In his hometown of Cork, back playing despite surely having the option to rest up after his immense shift against the World Champions.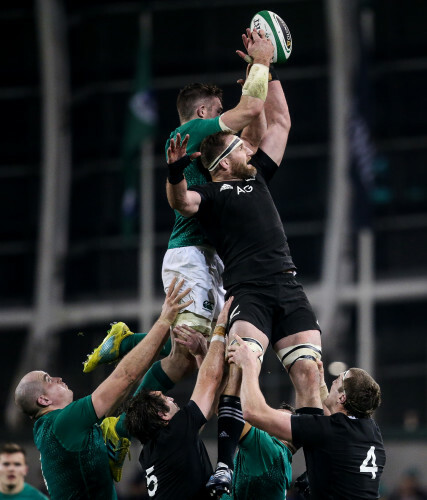 O'Mahony wins a line-out over Kieran Rwad.

Source: Gary Carr/INPHO
"Yeah, look, it takes a toll," said O'Mahony of his tank-emptying effort against New Zealand.
"We knew beforehand it takes the biggest performance of the year to play against them, it's always probably the fastest, most physical game you're going to come across. So, look, it took its toll as you saw towards the last 15, 20 minutes. But it was nice to have a few days off afterwards. I came back into camp for a few days and then got some time off to get over it well."
He adds: "I got a week, a few days off in the middle of the USA week. The lads were in Italy and I'd that weekend off. I'd a bit of a rest and I was eager to get back in. Obviously, I've had a good run of games and I think it's good for me to play rugby…"
Feeling fresh and ready for a 16th cut at Castres on Sunday [kick-off 1pm, BT Sports]. By the time O'Mahony and his team-mates settle in for their Saturday night dinner, they will know whether Exeter or Gloucester have been able to pull ahead of them in Pool 2.
Even with an opponent who appears to be taking this competition more serious than ever, the next two weekends present a terrific opportunity for Munster to tighten their hold on the race for the quarter-finals. An 11th straight European win at Thomond Park would be a welcome outcome to keep them out in front of the chasing pack. A familiar one, against a familiar rival.
"I've played against them plenty of times and watched them when I was smaller as well," said O'Mahony.

O'Mahony carries over Castres' Thierry LaCrampe in his first European season, 2011/12.

Source: Dan Sheridan/INPHO
 "We drew with them in the first game of the pool stages last year. I remember it was a hot day and people gave us a bit of stick and kind of wrote them off and obviously they went on to be the Top 14 champions. We knew the day afterwards there were opportunities for them and for us, but we were happy to come out of there with a draw."
"Even the game in Thomond Park in round six it was hugely close up to a certain point. There was a kind of stalemate and it was (level after 20 minutes) and then Earlsy scored and it just gave us a little breathing space.
"But it's incredibly physical. They lost at the weekend and we know how passionate they are of their home records, and we know they'll be hurting this week to come and put a performance in, and to make that right."
 "So we're expecting a massive challenge."
Murray Kinsella, Gavan Casey and Andy Dunne preview a big weekend of Heineken Cup action and dissect the week's main talking points.

Source: Heineken Rugby Weekly on The42/SoundCloud
Subscribe to our new podcast, Heineken Rugby Weekly on The42, here:
Sports