Manchester City

R. Sterling 14′, Bernardo Silva 64′

2
As it happened: Arsenal v Manchester City, Premier League
The Unai Emery era begins at the Emirates. Join us for live minute-by-minute coverage of this afternoon's Premier League action.
3:43PM
· SUNDAY
For the first since 1997, Arsenal kick off the new Premier League season with a man not named Arsene Wenger at the helm. The Unai Emery era begins today at the Emirates — and what bigger test than to welcome the champions, Manchester City, in their first game of the season?
Pep Guardiola's side are bidding to retain their crown, a feat which has proven more and more difficult in recent years. The season won't be won or lost for either side today but if nothing else, we should hopefully get a glimpse at how both of these sides are shaping up at the outset of the new season.
Kick-off is at 4pm.
3:49PM
· SUNDAY
TEAM NEWS:  Two debutants in Unai Emery's first competitive match – Sokratis starts at centre-half alongside Mustafi, and French teen Matteo Guendouzi is named in the Gunners' midfield.
Arsenal: Cech, Bellerin, Mustafi, Sokratis, Maitland-Niles, Guendouzi, Xhaka, Ramsey, Ozil, Mkhitaryan, Aubameyang.
3:50PM
· SUNDAY
TEAM NEWS: Pep and City arrive at close to full strength, with three changes from the Community Shield. Ederson, Sterling and Gundogan all start. De Bruyne, Sane and Jesus are on the bench.
Manchester City: Ederson, Walker, Stones, Laporte, Mendy, Fernandinho, Gundogan, Bernardo, Mahrez, Sterling, Aguero.
3:58PM
· SUNDAY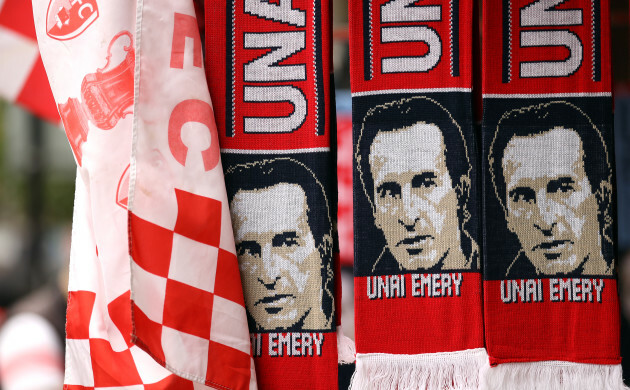 Source: Tim Goode
4:00PM
· SUNDAY
KICK OFF: We're underway at the Emirates. Who do you fancy?
4:03PM
· SUNDAY
2 mins – The ball falls nicely for Aaron Ramsey who goes with his right, rather than his left. In hindsight, it was the wrong call. Ederson gathers easily.
4:04PM
· SUNDAY
4 mins – A long ball over the top in search of Ozil has the home fans audibly excited but he's gone a step too early with his run. Offside.
4:05PM
· SUNDAY
4 mins – The ball runs away from Raheem Sterling and, as he tries to retrieve it, he lunges in on Guendouzi. Michael Oliver shows him a yellow card.
4:06PM
· SUNDAY
6 mins – Kyle Walker is playing high inside the Arsenal half in these opening minutes and looking menacing. He gets in behind the defence to cross from the right but it's too high and Arsenal clear.
4:10PM
· SUNDAY
9 mins — CHANCE! Great save by Cech at his near post to deny Sterling. He twisted and turned his way inside the area until an opening presented itself and then drilled a shot in. Cech stayed big until the last and got behind it to parry to safety.
4:13PM
· SUNDAY
12 mins — PENALTY SHOUT! Stones tangles with Ramsey off the ball on the edge of the City box. The crowd roars but Michael Oliver isn't interested in the slightest. Hopefully we get a second look at that one…
4:14PM
· SUNDAY
GOAL FOR MANCHESTER CITY! Arsenal 0-1 Manchester City (Sterling, 14′) Arsenal switch off for a second and the champions lead! Raheem Sterling comes back inside on his right and fizzes an absolute beauty past Cech from outside the box. The keeper didn't really get close.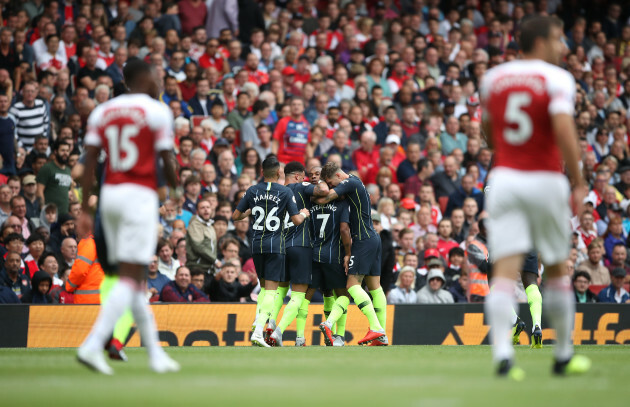 Source: Tim Goode
4:20PM
· SUNDAY
19 mins – Mendy has a fresh air as he tries to clear Maitland-Niles's cross. Arsenal retain possession and build again but Xhaka's long pass has too much juice and bounces harmlessly out of play.
4:23PM
· SUNDAY
21 mins — CHANCES AT BOTH ENDS! Mendy commits himself a bit too soon in trying to cut out Matiland-Niles's cross and Bellerin skips past him into the box. He hits the target but Ederson is equal to it, and his parry starts a City counter which ends when Aguero smashes it into the side-netting.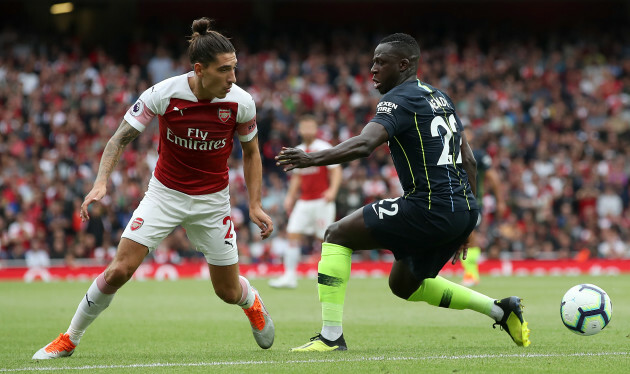 Source: PA Wire/PA Images
4:23PM
· SUNDAY
22 mins – Petr Cech has a mini brain-fart and nearly slices the ball into his own net.
4:26PM
· SUNDAY
25 mins – City are certainly keeping Petr Cech warm. Sterling calls him into action again but it's a relatively comfortable save in the end.
4:28PM
· SUNDAY
27 mins – Sloppy by Arsenal who give up possession easily in midfield. Aguero breaks and Sokratis brings him down right on the edge of the box. A booking for the debutant… and a great chance for City to double their lead.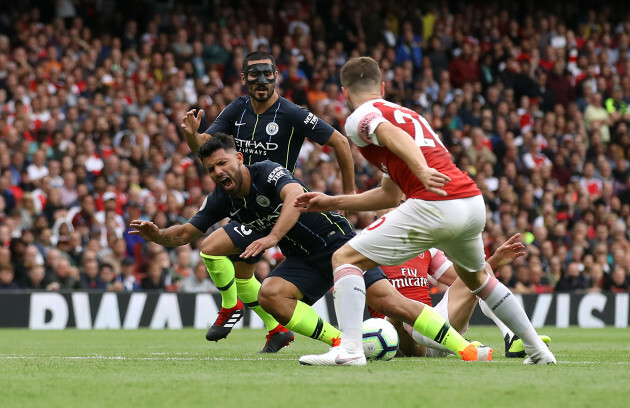 Source: Tim Goode
4:30PM
· SUNDAY
28 mins — DOUBLE SAVE! Smashing stuff by Cech. He gets down right into the corner to stop Mahrez's free kick which creeping in at the far post. The ball spins a couple of yards in front of him but as Laporte pounces, Cech stretches out his boot and deflects a certain goal behind for a corner.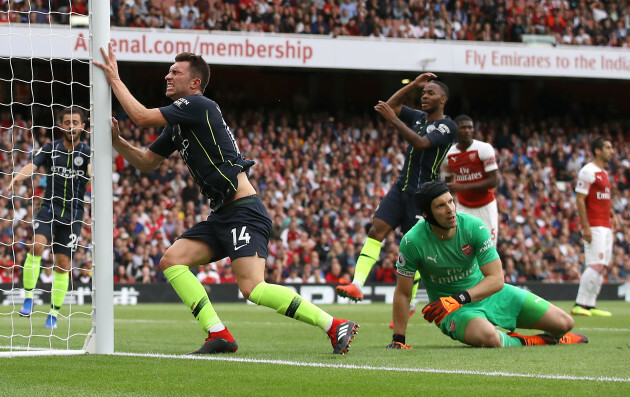 Source: Tim Goode
4:32PM
· SUNDAY
32 mins – We've a break in play while Maitland-Niles receives some treatment. He's moving very gingerly.
4:33PM
· SUNDAY
33 mins – Arsenal's left full hobbles and skips his way back into position. He's going to try and run it off.
4:34PM
· SUNDAY
33 mins – Lovely by Ramsey who skips around Laporte and Fernandinho in midfield. He lays it off to Ozil inside the box, who ships it on to Mkhitaryan, but he gets caught in two minds when the shot isn't immediately on, and that hesitation is enough to allow John Stones to nick it away.
4:35PM
· SUNDAY
35 mins — Arsenal substitution: That's the end of Ainsley Maitland Niles's afternoon. Stephan Lichtsteiner comes on in his place.
4:39PM
· SUNDAY
39 mins – Just over five minutes to the break. City have been well on top in this half but for all of their intent, it's still only 1-0, and if Arsenal get in at the break without conceding again, it won't be the end of the world.
4:42PM
· SUNDAY
42 mins – Mahrez runs at Lichtsteiner out right, and buys himself a bit of space with some quick footwork. He curls a shot towards Cech's far post but it's a foot or two wide. The keeper had it covered, anyway.
4:46PM
· SUNDAY
45 mins — OOOH! Mkhitaryan picks out Aubameyang with a lovely pass. He has Walker and Stones on the back foot and takes on the shot early, but hooks it left and off target. He should have done better there.
4:47PM
· SUNDAY
45+1 mins – We'll have four additional minutes.
4:49PM
· SUNDAY
HALF TIME: Arsenal 0-1 Manchester City
Back in five.
5:06PM
· SUNDAY
SECOND HALF: We're back underway at the Emirates.
5:10PM
· SUNDAY
50 mins – Nothing of note to report so far. I'll keep you posted…
5:11PM
· SUNDAY
50 mins – Mendy has a go but it comes back of Bellerin, and then Aguero has a sighter from the edge of box that comes off Xhaka's boot and flies behind for a corner.
5:13PM
· SUNDAY
52 mins – Xhaka stretches out a boot, trips Aguero, and goes into the book for his troubles.
5:15PM
· SUNDAY
54 mins — Arsenal substitution: Aaron Ramsey comes off to be replaced by Alexandre Lacazette. Expect him to play through the middle with Aubameyang sliding over to the left of that front three.
5:16PM
· SUNDAY
56 mins — OOOH! Great chance for Lacazette with what is effectively his first touch. Aubameyang plays a pass into him, he controls it on his thigh, lets it come across his body, and then shoots from the edge of the box. Just wide.
5:17PM
· SUNDAY
57 mins – And now Lacazette tries to turn provider, but Walker is alert to slide in and stop Aubameyang before he can do any damage.
5:19PM
· SUNDAY
59 mins — Manchester City sub: Here's Kevin de Bruyne; Mahrez makes way for the Belgian.
5:24PM
· SUNDAY
GOAL FOR MANCHESTER CITY! Arsenal 0-2 Manchester City (Bernardo 64′)
City haven't been hugely impressive since going in front but that, you suspect, should be that. Mendy and Sterling team up, it's pulled back to Bernardo on the penalty spot and, shooting on the turn, he gives Cech no chance.
5:27PM
· SUNDAY
65 mins – Sergio Aguero will be one of the more grateful men in the Emirates there. He had a glorious chance to put City 2-0 up just seconds before that, capitalising on a wild swing by Guendouzi. He should have squared it to De Bruyne, who would have had a tap-in, but shot instead and it was saved by Cech.
5:31PM
· SUNDAY
70 mins — Arsenal substitution: Emery makes his third and final change — Torreira comes on to replace Xhaka.
5:32PM
· SUNDAY
72 mins – Guendouzi has done some, em, interesting things this afternoon. He's been good in part but then had that howler which should have led to City's second goal, and now he's just taken on an effort from 25 yards out and ballooned horribly high and wide.
5:37PM
· SUNDAY
76 mins – Arsenal corner. Lichtsteiner's eventual cross is cut out by Stones.
5:39PM
· SUNDAY
All good, clean fun…
5:39PM
· SUNDAY
79 mins — Manchester City sub: Gabriel Jesus replaces Sergio Aguero.
5:41PM
· SUNDAY
80 mins – Half-hearted appeal for a penalty from Ozil whose touch lets him down in the box. Stones steps across him to shepherd the ball safely back to Ederson, Ozil goes down in a heap, but there's nothing much to it.
5:46PM
· SUNDAY
86 mins – Arsenal have the ball in the net but Ozil is somewhere between two and three yards offside. Like, not even close.
5:47PM
· SUNDAY
87 mins — Manchester City sub: Sane on for Sterling. This game has long petered out.
5:49PM
· SUNDAY
89 mins – Nice scoop pass by Guendouzi. Ozil tries to square for Mkhitaryan, but City crowd him out.
5:51PM
· SUNDAY
90 mins – Into four minutes of additional time.
5:53PM
· SUNDAY
90+2 mins – Ederson has been really very sloppy in the last few minutes, and he gifts Arsenal another half-chance with a loose pass out from the back. Mkhitaryan picks it ups and plays it to Lacazette, but he can't direct his shot on goal. Worrying lapses though from the City keeper.
5:54PM
· SUNDAY
FULL TIME: Arsenal 0-2 Manchester City
5:57PM
· SUNDAY
A relatively comfortable afternoon for Manchester City in the end, with the points settled midway through the second half with Bernardo Silva's goal.
It's not all doom and gloom for Arsenal. There were enough flickers of positivity there to suggest that Unai Emery will get them ticking over soon enough, though it's likely to take some time before he has the team fully playing in the way that he wants.
5:58PM
· SUNDAY
That's all from us for now, but stick with us for more reaction and analysis over the course of the evening. Thanks for reading.
The42 is on Instagram! Tap the button below on your phone to follow us!
Sports