Liverpool

Mohamed Salah 19′, S. Mané 45′ +2′, S. Mané 53′, D. Sturridge 88′

4
As it happened: Liverpool vs West Ham, Premier League
Liverpool welcomed West Ham to Anfield as the new Premier League campaign kicked into gear for both sides.
1:01PM
· SUNDAY
Hello! And welcome to our minute-by-minute coverage of this afternoon's clash from Anfield as Liverpool take on West Ham.
The new Premier League campaign is up and running and it's a first chance to impress for both these clubs in Merseyside.
Jurgen Klopp's men have been tipped by many as legitimate title challenges after the Reds' impressive run to the Champions League final was built on with the purchase of players like goalkeeper Alisson, Naby Keita, Xherdan Shaqiri and Fabinho.
The Hammers, meanwhile, begin a new era under the stewardship of Manuel Pelligrini. There is fresh optimism at the club following a 13th place finish last season and the ex-Man City boss will be keen to get up and running with a positive result today.
Kick-off is coming up at 1.30pm.
1:03PM
· SUNDAY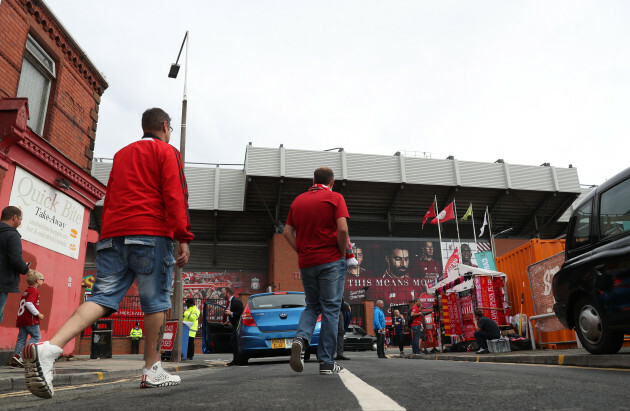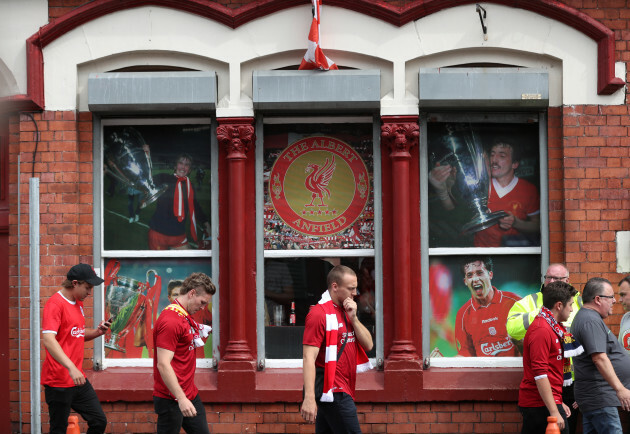 Source: David Davies
1:04PM
· SUNDAY
Let's get started with the team news…
1:05PM
· SUNDAY
5️⃣ new signings in our starting line-up! pic.twitter.com/2A8WR21Xo2

— West Ham United (@WestHamUtd) August 12, 2018
1:05PM
· SUNDAY
Our first @premierleague line-up of the 18/19 season. #PL debuts for Alisson and Keïta…#LIVWHU pic.twitter.com/dQ8NUxdwzN

— Liverpool FC (@LFC) August 12, 2018
1:06PM
· SUNDAY
So, today's teams will line out as:
Liverpool: Alisson, Alexander-Arnold, Gomez, Van Dijk, Robertson, Keita, Wijnaldum, Milner, Salah, Firmino, Mané.

Subs: Karius, Clyne, Fabinho, Henderson, Sturridge, Lallana, Shaqiri.

West Ham: Fabianski, Balbuena, Ogbonna, Rice, Fredericks, Noble, Wilshere, Masuaku, Antonio, Felipe Anderson, Arnautovic.

Subs: Zabaleta, Snodgrass, Adrian, Obiang, Hernandez, Yarmolenko, Diop.
1:08PM
· SUNDAY
Promising Ireland midfielder Declan Rice has been handed a start by boss Pelligrini this afternoon. A big ask of the 19-year-old but also a ringing endorsement for a brilliant debut campaign at the London Stadium last year.
Declan Rice starts in central midfield for West Ham at Anfield – ties in with pre-season chat that Pellegrini will play him there. Think that's where Ireland need him to play too.

— Daniel McDonnell (@McDonnellDan) August 12, 2018
1:25PM
· SUNDAY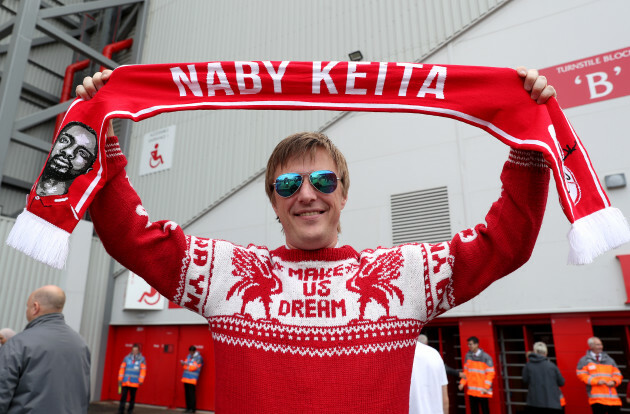 Source: PA Wire/PA Images
1:30PM
· SUNDAY
KICK-OFF: We're underway at Anfield!
1:35PM
· SUNDAY
A swashbuckling start for Liverpool as Roberto Firmino succeeds in fizzing the ball right into the box immediately. It causes momentary panic for Lukasz Fabianski and his defenders, but there's no red body on show to hammer the ball home.
1:37PM
· SUNDAY
Trent Alexander-Arnold getting a lot of success down the right wing very early on here. The young defender easy beats Felipe Anderson with a deft dummy before crossing a dangerous ball into the box, forcing Fabianski to flee his line to punch it clear. West Ham under quite a bit of early pressure now.
1:38PM
· SUNDAY
A third half-chance in quick succession for Liverpool as Mohamed Salah picks out Roberto Firmino with a clever through ball inside the box. Michail Antonio did really well to track back and provide a last-ditch interception, a tackle which denied a certain goal for the Brazilian from close range.
1:43PM
· SUNDAY
Jurgen Klopp's men looking really confident in these early stages, with Naby Keita slotting in seamlessly in the middle of the pitch alongside James Milner and Georginio Wijnaldum. The ex-RB Leipzig man is keen to get on the ball and drive play forward in that box-to-box role he perfected during his time in the Bundesliga.
1:46PM
· SUNDAY
Close! Sadio Mane is inches away from slotting in the opening goal of the afternoon. The forward peels away from his marker and is picked out by an inviting ball over the top from James Milner. He manages to get a toe to it, but only before Lukasz Fabianski races from his line once again to gather and end the danger.
1:48PM
· SUNDAY
Even closer! Liverpool seem to be teasing with their opponents now, putting all sorts of dangerous crosses into the box time after time. This time around James Milner curls a brilliantly-timed effort right into the mixer, but none of Salah, Mane or Firmino can stretch enough to nick a toe on the ball to make it 1-0.
1:49PM
· SUNDAY
GOAL! LIVERPOOL 1-0 WEST HAM (SALAH 19)
1:49PM
· SUNDAY
GGGOOOOAAAALLLLLLLLLL!! WHO ELSE?? THAT MAN MO! 🙌

[1-0]#LIVWHU pic.twitter.com/lGY2gS2ZrY

— Liverpool FC (@LFC) August 12, 2018
1:51PM
· SUNDAY
The goal finally arrives for the hosts and it's normal service resuming for Mohamed Salah. The forward scored an incredible 44 goals in all competitions last season and is up and running this campaign after just 19 minutes. He gets away from his marker at the back post with ease before getting on the end of Andy Robertson's cross with a deft finish.
1:55PM
· SUNDAY
It's a 45th goal in 53 appearances for Salah and there doesn't seem to be any instance of that so-called Second Season Syndrome for the 26-year-old. The goal had been coming for a while as Liverpool spurred half-chances, but it finally arrived. West Ham have been under the cosh pretty much from the get-go, and haven't had a single shot on or off target after 25 minutes. They will need a response.
1:56PM
· SUNDAY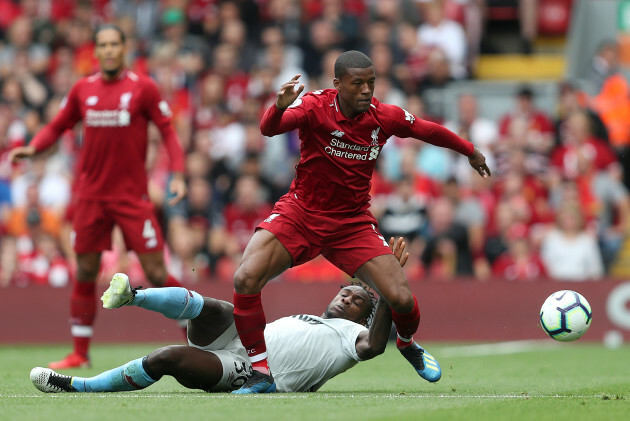 Source: PA Wire/PA Images
1:58PM
· SUNDAY
Chance! West Ham get their first sight at goal inside half an hour. Marko Arnautovic did well to get away from both Virgil van Dijk and Joe Gomez at the back before flashing a decent effort aimed towards the far corner. The forward got plenty of power behind the effort, but it lagged a handful of inches wide of its intended target.
2:02PM
· SUNDAY
The home supporters at Anfield aren't impressed as calls for a penalty fall on deaf ears. Liverpool players desperately claimed Angelo Ogbonna tried to control the ball with his arm inside the box, however subsequent replays show the centre back did in fact use his chest — it's the right call from referee Anthony Taylor.
2:04PM
· SUNDAY

Naby Keita celebrates with Mohamed Salah after Liverpool took the lead.

Source: PA Wire/PA Images
2:08PM
· SUNDAY
Save! An outstanding save from Fabianski keeps the scoreline at 1-0. Mohamed Salah thought he had his second of the afternoon after Roberto Firmino selflessly laid the ball on a plate for the Egyptian to have a go at goal. Salah succeeded in sweeping a low effort goal-bound, but the West Ham goalkeeper was first to it — showing brilliant responses to claw the ball away.
2:16PM
· SUNDAY
GOAL! LIVERPOOL 2-0 WEST HAM (MANE 47)
2:17PM
· SUNDAY
SADIIIOOOOOOO MANEEEEE! 💪

[2-0]#LIVWHU pic.twitter.com/iPkTpjUWJT

— Liverpool FC (@LFC) August 12, 2018
2:19PM
· SUNDAY
Liverpool double their lead right before the break. Sadio Mane gets his own account up and running for the season and it's another close range finish. James Milner volleys the ball back across goal and Mane is on hand to stick out a leg and fire the ball into the back of the net.
2:20PM
· SUNDAY
HALF-TIME: LIVERPOOL 2-0 WEST HAM
2:20PM
· SUNDAY
Strong opening 45 minutes of the 18/19 season. Salah and Mane both on the scoresheet. #LIVWHU pic.twitter.com/SrCd86Zzkg

— Liverpool FC (@LFC) August 12, 2018
2:20PM
· SUNDAY
HALF-TIME@LFC two to the good at Anfield while we await our first goal at St Mary's#LIVWHU #SOUBUR pic.twitter.com/2H9Tn346lJ

— Premier League (@premierleague) August 12, 2018
2:24PM
· SUNDAY
Well, what have we made of it so far? Very comfortable for Liverpool so far, it has to be said. Jurgen Klopp's side have been on top from the get-go and even before taking the lead always looked like scoring. Naby Keita has been a driving force in the middle of the park on his competitive debut, but the majority of the Reds' success has been through a constant barrage of crosses from both flanks — a tactic which has yielded success in both Mohamed Salah and Sadio Mane's close-range finishes. More action to come shortly!
2:33PM
· SUNDAY
SECOND-HALF: We're back underway for another 45 minutes!
2:37PM
· SUNDAY
Chance! Michail Antonio fires a header over the crossbar. The forward did really well to get away from his marker, but his effort just flew over the bar. A much better start to the second half from West Ham.
2:40PM
· SUNDAY
GOAL LIVERPOOL 3-0 WEST HAM (MANE 53)
2:40PM
· SUNDAY
GGGOOOOOAAAAAALLLLLLLLLLLLLLL!!!! SECOND FOR SADIO! 🔥

[3-0]#LIVWHU pic.twitter.com/R4A9gWyGkf

— Liverpool FC (@LFC) August 12, 2018
2:42PM
· SUNDAY
Liverpool are in dreamland now as the three points looks all but secure. Sadio Mane snatches possession just inside the box following some tenacious dribbling from Roberto Firmino before slotting the ball cooly into the bottom corner. 3-0 to the hosts.
2:45PM
· SUNDAY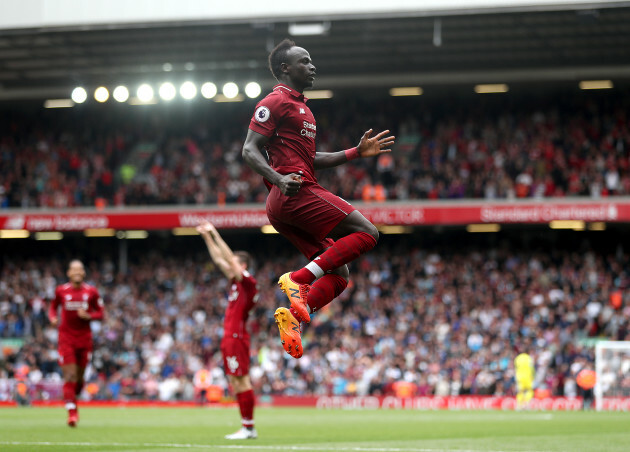 Source: PA Wire/PA Images
2:49PM
· SUNDAY
The midfielder has been on top of his game today.
Naby Keita looks a wonderful addition for Liverpool. Dynamic.

— Ian Darke (@IanDarke) August 12, 2018
2:50PM
· SUNDAY
Substitution for West Ham: Javier Hernandez replaces Felipe Anderson.
Chicha comes on to replace Felipe Anderson.#LIVWHU 3-0 (61) pic.twitter.com/uthggC7bYE

— West Ham United (@WestHamUtd) August 12, 2018
2:52PM
· SUNDAY
West Ham are really trying their best to push forward and fight back against the constant suffocating press which has been in place from Liverpool this afternoon. The pace up and down the wings from Andy Robertson and Trent Alexander-Arnold has been a constant menace when combined with that ever-present front three of Salah, Mane and Firmino, and the Hammers are struggling to find any respite.
2:54PM
· SUNDAY
Subsequent replays have shown that Sadio Mane was in fact offside for his second goal. The Liverpool forward held the line as best he could to latch onto Roberto Firmino's pass, but the goal should not have stood and Hammers fans can feel a little bit hard done by.
2:58PM
· SUNDAY
Substitution for Liverpool: Jordan Henderson replaces Roberto Firmino.
3:00PM
· SUNDAY
The game's pace has died down just a notch over the last five minutes. Mane's second goal has put the match's result beyond any doubt, and Liverpool seem content to try and go forward in search of a fourth, but taking the game at their own pace. It's been an impressive opening display from this Liverpool side which has been heavily tipped to battle for the title.
3:01PM
· SUNDAY
Georginio Wijnaldum tries his luck from distance. The Dutch international finds time and space on the edge of the box but curls his effort just narrowly wide of the top corner. He got a fair bit of whip behind the strike, but it just didn't come back around in time to find top bins.
3:02PM
· SUNDAY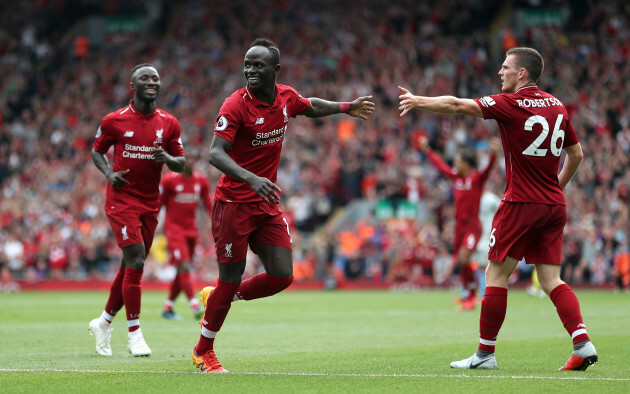 Source: PA Wire/PA Images
3:08PM
· SUNDAY
Another chance comes and goes for Wijnaldum. The introduction of Jordan Henderson has allowed the number 5 the space to push further forward and as a result is seeing a lot more ball right in front of goals. This time Wijnaldum's final touch is just too heavy, and by the time he catches up to the ball his strike on goal is blocked down at the last second. Close but no cigar.
3:08PM
· SUNDAY
Substitution for Liverpool: Xherdan Shaqiri replaces Sadio Mane.
3:11PM
· SUNDAY
Xherdan Shaqiri comes on to make his competitive debut for Liverpool. The Swiss has won two Bundesliga titles, a Champions League, one German Cup, three Swiss Super Leagues and was once described by Brian Kerr as "a chunky little fella".
Everyone deserves to hear Brian Kerr's description of Xherdan Shaqiri because Brian Kerr is a national treasure #WorldCup pic.twitter.com/GsbPpbdWB0

— Darren Cleary (@RadioCleary) June 22, 2018
3:15PM
· SUNDAY
A really good move from Liverpool sees Shaqiri right in the thick of play off the bench. He picks out Naby Keita with a crossfield ball, with the midfielder feeding Andy Robertson on the overlap. The defender dribbles the ball past the challenge of Ryan Fredericks the first time around, however the defender did well to recover and put the ball out for a corner.
3:16PM
· SUNDAY
GOAL! LIVERPOOL 4-0 WEST HAM (STURRIDGE 88)
3:16PM
· SUNDAY
FIRST TOUCH FOR STURRIDGE!!! 🙌

[4-0]#LIVWHU pic.twitter.com/d0gnLRw72l

— Liverpool FC (@LFC) August 12, 2018
3:18PM
· SUNDAY
It just gets better and better for Liverpool as Daniel Sturridge comes off the bench to score with his very first touch. The forward suffered a difficult campaign last season between injuries and a loan spell at West Brom, but now scores his first goal in the red jersey since November 2017. He peeled away from Fredericks at the back post and was on hand to side-foot the ball into the back of the net from James Milner's corner. 4-0 to Liverpool.
3:18PM
· SUNDAY
There will be three minutes of stoppage time to come at the end of the second half.
3:21PM
· SUNDAY
FULL-TIME: LIVERPOOL 4-0 WEST HAM
3:22PM
· SUNDAY
FULL-TIME Liverpool 4-0 West Ham

The Reds get off to a flying start thanks to 2 goals from Sadio Mane & one each from Salah and Sturridge#LIVWHU pic.twitter.com/l9p9oWKnmJ

— Premier League (@premierleague) August 12, 2018
The42 is on Instagram! Tap the button below on your phone to follow us!
Sports