Manchester United

A. Martial 30′, J. Lingard 69′

2
As it happened: Man United vs Arsenal, Premier League
We went minute-by-minute as Manchester United welcomed Arsenal to Old Trafford in the Premier League.
6:53PM
· WEDNESDAY
Hello! And welcome to our minute-by-minute coverage of tonight's mouthwatering clash between Man United and Arsenal. There have been some unforgettable thrillers in this fixture down through the years and, at the height of the Ferguson-Wenger eras, there was absolutely no love lost between these two bitter rivals.
Rivals in no way geographically, but rivals none the less. These are historically two Premier League giants and with zero league titles between them over the last five years, the two sides are a lot closer pound-for-pound than in any time in recent memory.
Under Unai Emery, the Gunners have looked a new side entirely — fresher, bolder, more invigorated. They have nine wins from 14 league games this season and are an impressive eight points and four places above their advisories before kick-off tonight.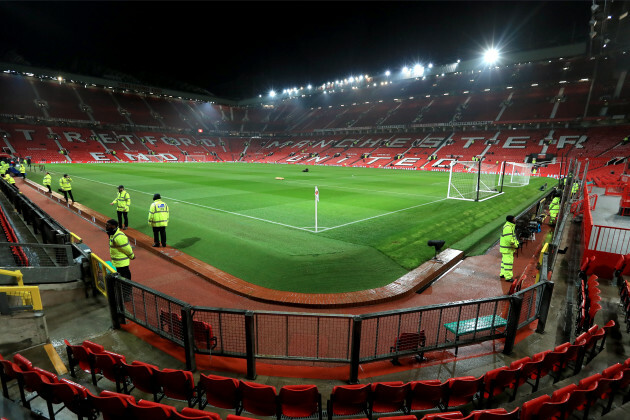 Source: Mike Egerton
If Arsenal are a side seemingly on the rise, then Jose Mourinho's United are anything but. One bad result can constitute a crisis these days in football and more often than not the flames around the Portuguese manager are overblown and over-dramatised.
But it cannot be denied or avoided that his side are deeply struggling at the moment. United are currently 19 points behind league leaders Manchester City and without a positive result at Old Trafford tonight that fact will not change an inch.
With rumours of discontent within the United camp, a side struggling to live up to their pre-season billing as title contenders and a revamped Arsenal side in their sights tonight, it is a crucial and pivotal game for the hosts.
Kick-off is coming up at 8.00pm. Strap yourselves in!
7:12PM
· WEDNESDAY
Let's get started with the team news…
7:12PM
· WEDNESDAY
🔢 Our starting XI once more: Leno, Bellerin, Sokratis, Mustafi, Holding, Kolasinac, Torreira, Guendouzi, Ramsey, Iwobi, Aubameyang#MUNARS pic.twitter.com/qiTqF4yqbt

— Arsenal FC (@Arsenal) December 5, 2018
7:13PM
· WEDNESDAY
Here's how #MUFC line up for #MUNARS…

Head to our official app for minute-by-minute updates: https://t.co/5Ab1IkVQX3 pic.twitter.com/ba9vFNN61H

— Manchester United (@ManUtd) December 5, 2018
7:14PM
· WEDNESDAY
So, tonight's teams will line out as:
Man United: De Gea; Bailly, Smalling, Rojo; Dalot, Herrera, Matic,
Lingard, Darmian; Martial, Rashford.

Substitutes: Pogba, Mata, Lukaku, Romero, Valencia, Fellaini, McTominay.

Arsenal: Leno; Papastathopoulos, Mustafi, Holding; Bellerin, Torreira, Guendouzi, Ramsey, Kolasinac; Iwobi, Aubameyang.

Substitutes: Cech, Elneny, Mkhitaryan, Lacazette, Lichtsteiner, Maitland-Niles, Nketiah.
7:25PM
· WEDNESDAY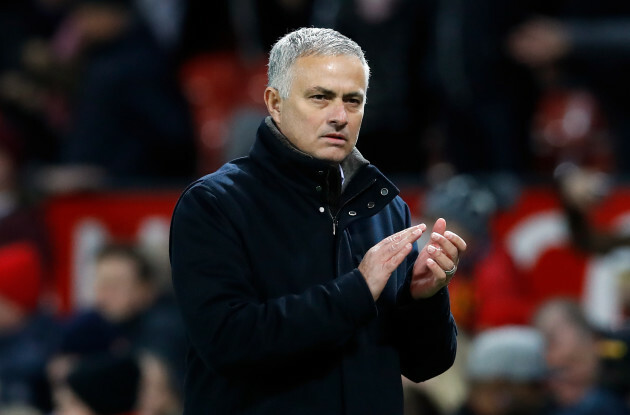 Source: Martin Rickett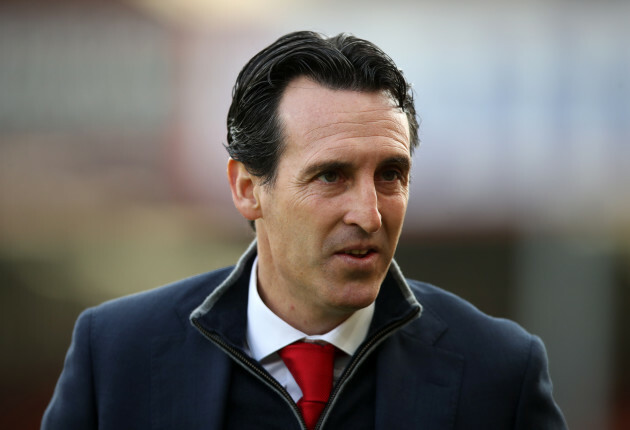 7:25PM
· WEDNESDAY
Eric Bailly making his return to Man United's starting XI might be the second most interesting aspect to the side's starting XI tonight as both Paul Pogba and Romelu Lukaku have been dropped.
Jose Mourinho has made a grand total of seven changes to the side which clawed to a 2-2 draw with struggling Southampton at the weekend, a game which saw Ireland striker Michael Obafemi register his first ever Premier League assist.
Marcos Rojo also makes his return at the back tonight. It's his first appearance of the season and his first taste of any sort of senior football since Argentina exited the World Cup at the hands of France at the end of June.
For Arsenal, Unai Emery has made two changes to the side which handed Tottenham a 4-2 London derby defeat on Sunday – Henrikh Mkhitaryan and Granit Xhaka making way. The Gunners are seeking their first win at Old Trafford in 12 years here tonight.
7:26PM
· WEDNESDAY
📍 Old Trafford

Let's get back to work 👊 pic.twitter.com/j0tHhSOh19

— Arsenal FC (@Arsenal) December 5, 2018
7:28PM
· WEDNESDAY
On the omission of Pogba and Lukaku, Mourinho has said: "You know, technical and tactical decisions. We're going to play with Lingard, Rashford and Martial. We did that before against Young Boys. We were not successful with the goals we wanted to score but we were happy with the situations we were able to create. We believe the combination of these three young, fast, creative players … we believe in their dynamic and appetite."
7:31PM
· WEDNESDAY
It was a sublime London derby win for Arsenal on Sunday. Pierre-Emerick Aubameyang is in the form of his life and currently leads the Premier League top scorers charts with 10 goals in 14 games. He will take some stopping tonight.

Source: Arsenal/YouTube
7:32PM
· WEDNESDAY
Right, with half an hour to go before we get underway, how do we see tonight's clash unfolding? Let us know below!
Poll Results:
7:34PM
· WEDNESDAY
Ah, Roy and Patrick used to love these nights. Statisticians say there's been a 76% reduction in "meaty challenges" in games between Man United and Arsenals since 2005. A shocking decline.
Man United v Arsenalpic.twitter.com/3riIGZupBe

— Classic Football Shirts (@classicshirts) December 5, 2018
7:37PM
· WEDNESDAY
Oh, go on then. For the night that's in it…

Source: things4cheap/YouTube
7:49PM
· WEDNESDAY
Some pre-game reading ahead of kick-off:
Mourinho: Only 'dishonest' players play poorly for managers they don't like
'I don't want to update you': Mourinho refuses to provide team news to MUTV
Second-half blitz sees Arsenal power past Spurs in six-goal North London derby
7:57PM
· WEDNESDAY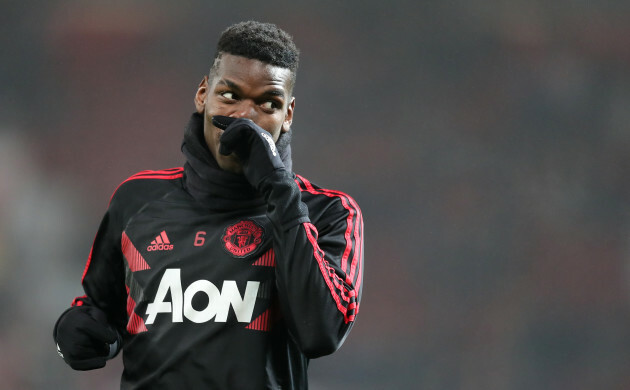 Source: Martin Rickett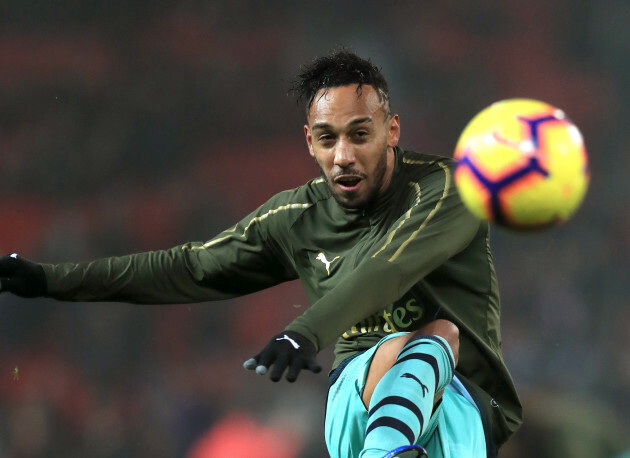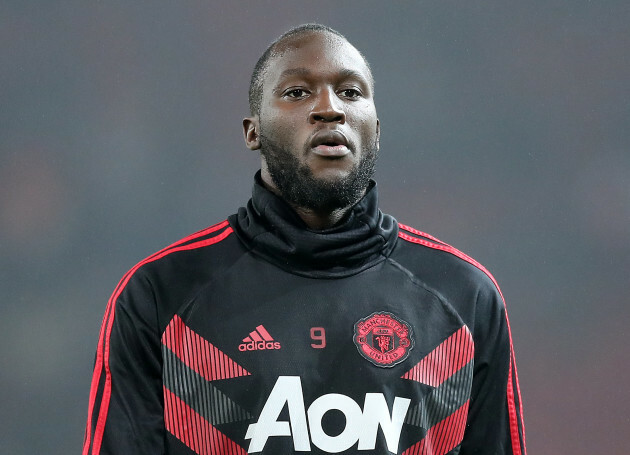 8:00PM
· WEDNESDAY
KICK-OFF: We're underway at Old Trafford!
8:03PM
· WEDNESDAY
A good opening attack by Man United here as a long, hoofed ball over the top causes immediate issues for that 3-man Arsenal backline. Anthony Martial makes a smart, darting run behind enemy lines but Marcus Rashford's pass is intercepted. A promising start for the hosts.
8:05PM
· WEDNESDAY
Rashford is getting plenty of early touches in this game. He beats his marker with a smart drop of the shoulder before letting fly with a stinging shot. The England striker makes a really good connection with his effort, it's a good 25 yards out from goal, but it's right at Bernd Leno and the German goalkeeper catches with ease.
8:10PM
· WEDNESDAY
It's all Man United here, but Emery's men are managing to hold their own in a calm and cool demeanour. Holding, Mustafi and Sokratis have their work cut out for them inside these opening few minutes, but despite United's possession there is no major threat at the moment.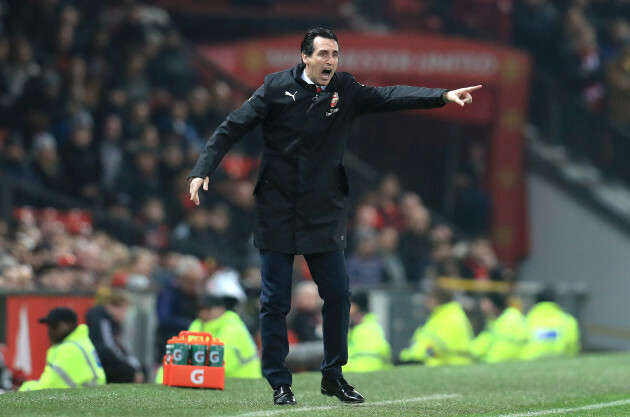 Source: Mike Egerton
8:13PM
· WEDNESDAY
A decent chance for a snappy counter-attack for United, but instead of trying to pick out a pass Anthony Martial decides to have a go at goal from distance which is caught by Leno. The French forward is United's top goalscorer this season with 6 goals in 14 games, so I think it's fair to say he's earned the right to have a pop.
8:14PM
· WEDNESDAY
Arsenal fans singing "Jose Mourinho, we want you to stay"

— Miguel Delaney (@MiguelDelaney) December 5, 2018
8:17PM
· WEDNESDAY
Sead Kolasinac with a lovely weighted pass for Alex Iwobi. The Nigerian attacker fights for the ball right at the end line and succeeds in earning a corner as Eric Bailly blocks his cross out of play. The corner comes to nothing, but it's a lot more promising from Arsenal after a solid 10 minute period of being under sustained pressure at the back.
8:20PM
· WEDNESDAY
Oh no, the atmosphere has gotten to that quiet stage where you can hear the players shouting across the pitch to one another. It's grand for a Sunday league game, but not in front of 75,000 fans. This game needs a goal or something to kick us into gear — whatever happened to those airplanes they used to fly over Premier League grands with manager's names on them? Very 2013, those.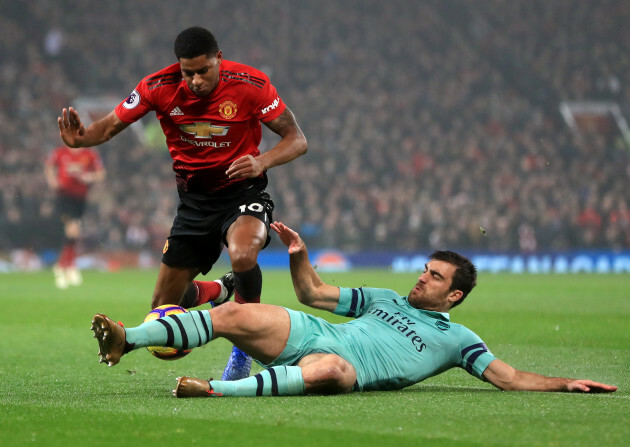 Source: Mike Egerton
8:22PM
· WEDNESDAY
A really good move from Arsenal here now. Ramsey, captaining the side tonight, threads an excellent ball through for Kolasinac to chase. He crosses with the intention of hitting Pierre-Emerick Aubameyang, but Chris Smalling reads the danger and intercepts.
8:26PM
· WEDNESDAY
GOAL! MAN UNITED 0-1 ARSENAL (MUSTAFI 26)
8:29PM
· WEDNESDAY
Oh goodness, what has happened there. A completely mad goal has Arsenal ahead with less than half an hour on the clock. A corner into the box sees Shkodran Mustafi produce a powerful header which is, eh, too powerful for David De Gea. The Spanish goalkeeper gets a good two hands behind it in what looks like a routine save, but the ball crawls over the line. There was a slight delay before it was given, but there is no doubt that Arsenal are ahead. Bizarre.

8:30PM
· WEDNESDAY
GOAL! MAN UNITED 1-1 ARSENAL (MARTIAL 30)
8:33PM
· WEDNESDAY
Oh wow, we're all square! It's the perfect response from Manchester United and all a sudden we've a bloody game on our hands here. Bernd Leno actually makes a really good initial save to push away a Rojo free-kick into the box, but Anthony Martial is on hand to convert from Ander Herrera's cross back into the danger zone. It's 1-1!
8:35PM
· WEDNESDAY
What a four minute period. From an intriguing but slightly lax opening spell, this game has rocked into action. Amid all the madness of the two goals, Rob Holding has gone off injured after clashing with Marcus Rashford. He's receiving treatment from the Arsenal medics but he could go off — it looks serious.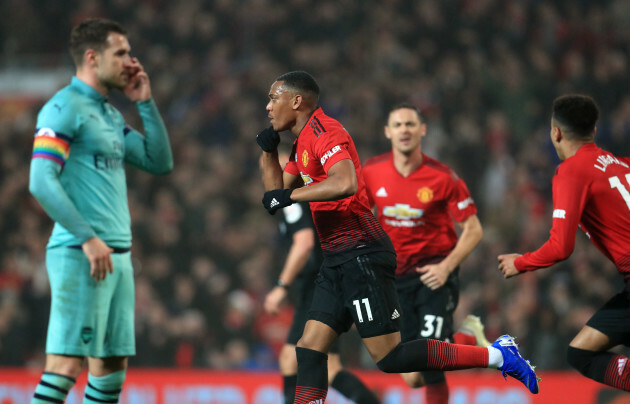 Source: Mike Egerton
8:37PM
· WEDNESDAY
Yep, sadly Rob Holding's night is over before it ever really got going. He is stretchered off and replaced by Stephan Lichtsteiner off the bench for Arsenal.
8:42PM
· WEDNESDAY
A few tasty challenges flying in left and right now, as the game really begins to heat up. Mustafi receives a yellow card for a sliding challenge on Rashford, before Marcos Rojo then slides in on Matteo Guendouzi. Old Trafford is like a war zone out there at the moment.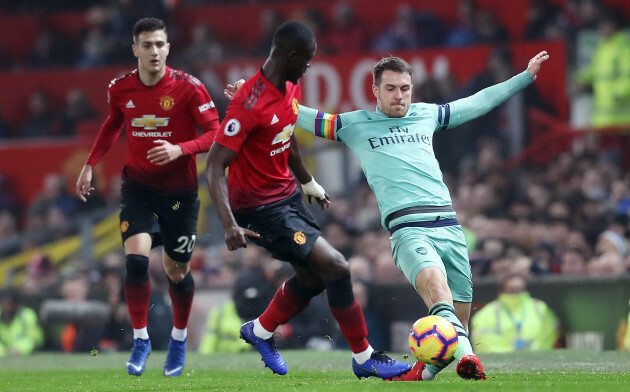 Source: Martin Rickett
8:43PM
· WEDNESDAY
Nemanja Matic is flagged for a foul and he is the fifth, yes fifth, player to receive a yellow card in this first half. He joins Shkodran Mustafi, Hector Bellerin, Jesse Lingard and Marcos Rojo in the referee's book. Madly enough, there's been an average of a yellow card every eight minutes in this game.
8:47PM
· WEDNESDAY
There will be three minutes of stoppage time to come at the end of the first half.
8:48PM
· WEDNESDAY
HALF-TIME: MAN UNITED 1-1 ARSENAL
8:50PM
· WEDNESDAY
An entertaining start but there's much more to come#TOTSOU #MUNARS pic.twitter.com/opQ0V9a5ar

— Premier League (@premierleague) December 5, 2018
8:58PM
· WEDNESDAY
There we are, half-time already. After a slow start, this game burst into life with two goals in less than four minutes. Shkodran Mustafi's header was poorly dealt with by David De Gea, but Anthony Martial responded perfectly with his 8th goal in all competitions this season. The perfect way for the French forward to celebrate his 23rd birthday. It's been very even with more than a handful of yellow cards and heated challenges to make it a gripping affair. All to play for with another 45 minutes to come very shortly!
9:04PM
· WEDNESDAY
SECOND-HALF: We're back underway at Old Trafford for the second half!
9:05PM
· WEDNESDAY
There's just one switch at half-time from either side and it's another enforced change for Unai Emery as Aaron Ramsey comes off and is replaced by former Man United man Henrikh Mkhitaryan. The Armenian spent a frustrated 18 months at Old Trafford after arriving from Borussia Dortmund, but did pick up a Europa League and Community Shield for his efforts.
9:10PM
· WEDNESDAY
It's a much improved start to the second half from Arsenal here. They are applying a lot of pressure in the final third with Mkhitaryan aiding the efforts of Aubameyang and Iwobi. A high press which seems to be working against that back three of Rojo, Smalling and Bailly.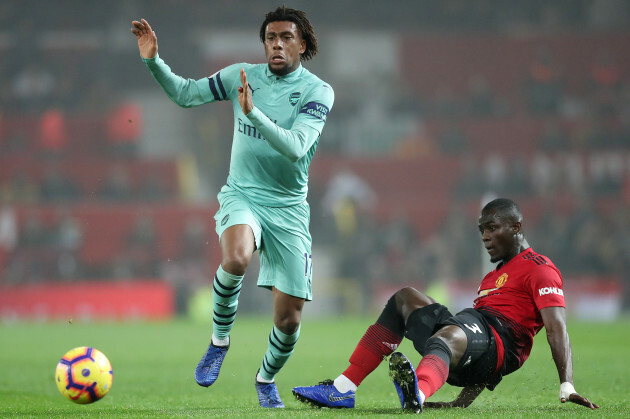 Source: Martin Rickett
9:15PM
· WEDNESDAY
There's panic inside the Arsenal box as Lingard finds Martial with a clever pass. The combined efforts of Lucas Torreira and Shkodran Mustafi manage to hack the ball clear. A frantic game out there at the moment, end-to-end.
9:18PM
· WEDNESDAY
A great hit from Rojo as the defender let's fly from distance. For his first game since the end of the World Cup in June, he is flying it out there tonight. Venturing forward, he lines up an effort from an unholy distance of more than 30 yards but succeeds in testing Leno, who has to tip over the bar.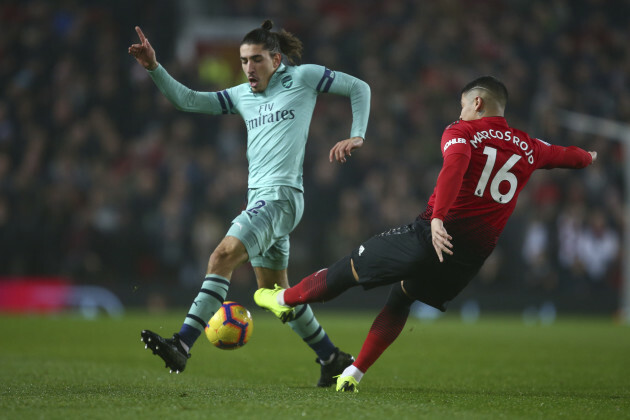 Source: Dave Thompson
9:21PM
· WEDNESDAY
Another break for Arsenal, but it's passed up poorly by Sead Kolasinac. The Bosnian international leaps forward down the left wing brilliantly before cutting into the box, however his cross is to no-one in particular and is deflected wide for a corner.
9:27PM
· WEDNESDAY
GOAL! MAN UNITED 1-2 ARSENAL (LACAZETTE 68)
9:29PM
· WEDNESDAY
GOOOOOAL! Arsenal are back ahead and it's another crazy goal. The Gunners break through free on goal, Alexandre Lacazette exchanges a one-two before he is brought down in the box, but only for Marcos Rojo to tackle the French forward and deflect the ball into the back of the net past De Gea. It could be an own goal, it could be Lacazette — but either way Arsenal are 2-1 up!
9:30PM
· WEDNESDAY
GOAL! MAN UNITED 2-2 ARSENAL (LINGARD 69)
9:31PM
· WEDNESDAY
GOOOOOALL! THIS. GAME. WON'T. STOP. Man United have levelled right from the kick-off — a calamitous error inside the Arsenal penalty area from Sead Kolasinac following a long ball into the box sees Jesse Lingard first to respond. He leaps ahead of everyone as a pile of bodies stacks up inside the box and succeeds in poking the ball past Leno. It's 2-2!

Source: Martin Rickett
9:33PM
· WEDNESDAY
Goodness gracious, what a game. Every time Arsenal take the lead, United respond in kind with a goal right way. It's just utterly end-to-end right now with the dreadful level of defending at both ends only making for a bombastic affair with shots aplenty. Amid all the madness Marouane Fellaini has come on off the bench for Marcos Rojo. He's going to nab a last minute winner, isn't he? Mark my words.
9:39PM
· WEDNESDAY
Aubameyang genuinely doing more defensive work than Kolasinac now.

— gunnerblog (@gunnerblog) December 5, 2018
9:40PM
· WEDNESDAY
Fellaini takes possession an inch inside the box and lines up a volley. The Belgian makes a good connection on it, but a brave block from Sokratis momentarily ends the danger. Man United are pressing for a winner here — with a top four place already looking like a potentially tricky task this season, a win here tonight is crucial. Mourinho knows he needs all three points as they currently occupy eighth spot.
9:44PM
· WEDNESDAY
It's getting very tense now with 10 minutes to go. Both Unai Emery and Jose Mourinho are up and down and stamping around, urging their sides on. On the pitch, Chris Smalling takes possession and issues passes left and right. United aren't under a huge amount of pressure now, but they are struggling to make anything in the final third. Marcus Rashford and Paul Pogba looking a little isolated.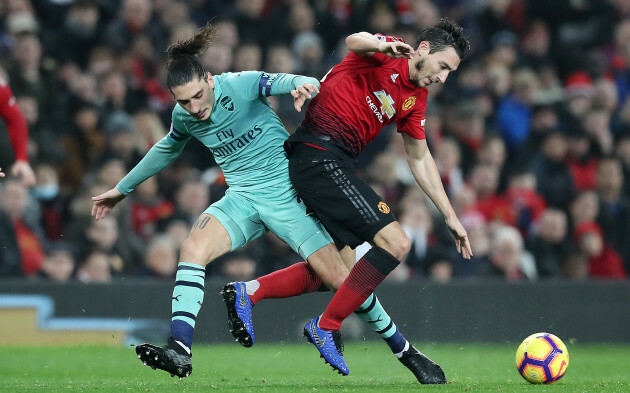 Source: Martin Rickett
9:46PM
· WEDNESDAY
Matteo Guendouz is brought down for a foul as Marouane Fellaini pulls on his jersey. No wait, he pulled his hair. He actually pulled his hair. Goodness gracious. Three minutes remaining.
9:48PM
· WEDNESDAY
Alexandre Lacazette has the ball in the back of David de Gea's goal… but it won't count. He cheekily nipped the ball out of the United's goalkeeper's hands while he was distracted before kicking the ball curling goal-bound. It's still all square with injury time to go.
9:50PM
· WEDNESDAY
The drama is unending at Old Trafford. This time Henrikh Mkhitaryan has the ball in the back of the net, but he's flagged for offside. United were on the ropes for a few moments at the back with their backs against the wall and an emphatic volley from the Armenian slammed the back of the net. There are no complaints, however, as in all fairness he was well offside.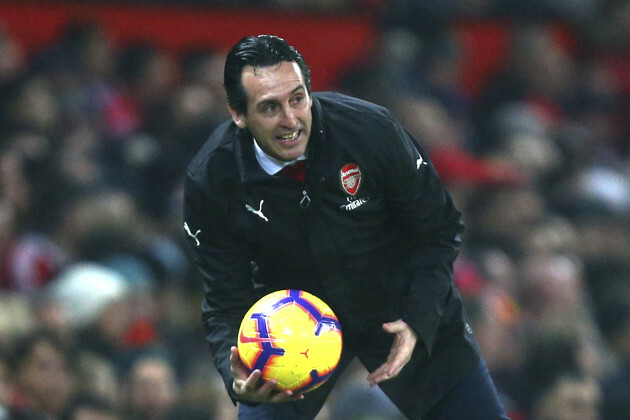 Source: Dave Thompson
9:50PM
· WEDNESDAY
There will be four minutes of stoppage time to come at the end of the second half.
9:55PM
· WEDNESDAY
FULL-TIME: MAN UNITED 2-2 ARSENAL
9:58PM
· WEDNESDAY
FULL-TIME Man Utd 2-2 Arsenal

A thrilling end-to-end encounter ends level after Man Utd fight back to claim a point#MUNARS pic.twitter.com/VfE1l7ymSC

— Premier League (@premierleague) December 5, 2018
10:01PM
· WEDNESDAY
Well, there we have it. A thoroughly enjoyable and exciting encounter which was made possible thanks to some truly awful defending at both ends. Man United needed a win tonight to try and make ground on the race for the top four, but they will have to settle for a point. Mustafi, Martial, Lacazette and Lingard all on the scoresheet on a night when Unai Emery's men extended Arsenal's unbeaten streak to an impressive 20 games. Thanks a million for joining us for the ride, you can read our full match report here. Cya!
10:02PM
· WEDNESDAY
The points are shared after an enthralling encounter at Old Trafford.

Reaction: https://t.co/5Ab1IkVQX3 #MUNARS #MUFC pic.twitter.com/DbOfvIQFH2

— Manchester United (@ManUtd) December 5, 2018
Subscribe to our new podcast, Heineken Rugby Weekly on The42, here:
Sports