Amy Schumer won't let Meghan Markle overshadow her pregnancy.
The comedian joked about her love-hate relationship with the Duchess of Sussex, dubbing the former actress her "nemesis" because both of them are pregnant at the same time.
"So say someone like, I don't know, my nemesis Meghan Markle," Schumer said in an InStyle video titled, "Amy Schumer's Advice on How to Not Give A S—."
"Why is she my nemesis? Because she's pregnant at the same time as me and I'm not letting her get away with that," she added.
The "I Feel Pretty" star dubbed the pregnant duchess her nemesis while giving her second tip that "everyone is a narcissist." Schumer pointed to the example of feeling competitive with Markle.
"So maybe I'm feeling competitive, like, 'Oh, Meghan looks better than me and she has a tiny small bump and she's wearing high heels and I already look 10 months pregnant and I've been wearing flats for the last four years,'" Schumer said.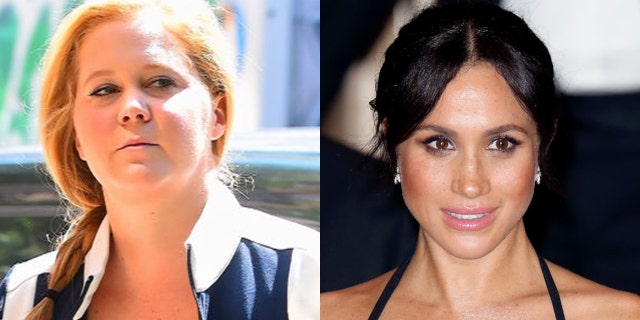 She then added that she goes on to remember this advice: "No one really cares about me, because they really only care about themselves."
Schumer announced in October she was pregnant with her first child with husband Chris Fischer. Markle and Prince Harry also announced earlier that month they were also expecting their first child together and due to welcome the new royal member next spring.