So close but yet so far time and time again, 2018 could be the year that the Cork kingpins finally get what they want.
BEFORE LAST YEAR'S All-Ireland club final, Mourneabbey manager Shane Ronayne pretty much had his mind made up that this was it.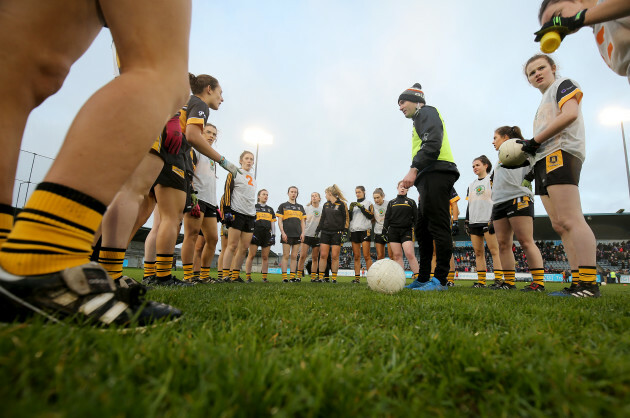 This comes as their fourth final in five years.

Source: Oisin Keniry/INPHO
Regardless of the result, he was finishing up. He had steered them to three Cork and Munster titles in-a-row but that All-Ireland crown was elusive. 
A final loss to Donegal side Termon in 2014, Donaghmoyne in 2015, a semi-final defeat to the same side in 2016; it was hoped that 2017 would be a case of fourth time lucky. 
But it wasn't to be as Carnacon lifted the Dolores Tyrrell Memorial Cup.
"Straight away after the final whistle I said, 'God, I can't leave this go,'" Ronayne recalls, 12 months on and preparing for a fourth final in five years, this time against Dublin and Leinster kinpins Foxrock-Cabinteely.
On the way home from Parnell Park on 3 December 2017, the heartbroken Clyda outfit stopped for a quick drink in The Poitin Still. Drowning the sorrows more than anything of course, but there was some serious business to be sorted while there.
"Ciara and Doireann [O'Sullivan] came up to me and went, 'Shane, whatever you're thinking about doing now, you're not to do it. We want you back,'" he explains.
"Their honesty was incredible. They said, 'Shane, we lost that out there today. Ye didn't lose it for us, we didn't do what we were meant to do.' I think that honesty said to me, 'Look, we'll have another cut off this.'"
That sheer honesty, and the fact that the players knew they had let it slip through their fingertips, helped them to pick themselves up and go again.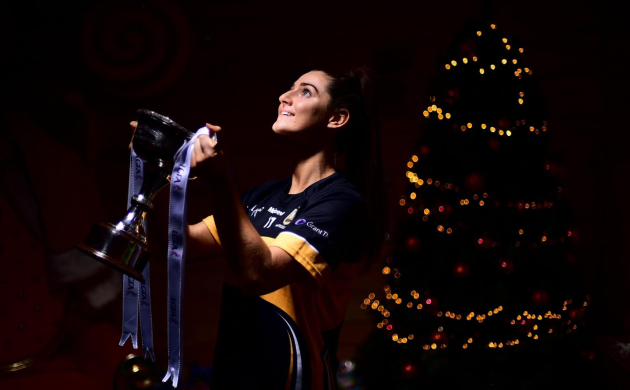 Mourneabbey defender Eimear Meaney.

"They knew themselves and I think that's kind of what drove it," Ronayne, who also manages the Tipperary ladies, continues. "That's what made us come down to the field again. We wanted to take a bigger break, and they were tormenting us to go back.
"They're that driven to succeed with Mourneabbey."
Plain and simple though, there's one thing they want.
2019, he says, has definitely been their toughest campaign to date. 
The Cork championship was a ring of fire in itself. St Val's, boosted by the addition of star forward Rhona Ni Bhuachalla, proved stiff competition in the semi-final. It all could have came crashing down there and then, he concedes. But they did just enough to seal their passage to Munster.
Divisional side West Cork pushed them to a replay in the county decider but on second asking, Mourneabbey got the job done with ease. 
27 October threw up another battle against old foes Ballymacarbry in the Munster final.
Five points down, 10 minutes into the second half and playing against the wind, Ronayne vividly remembers saying, 'Jesus, it's going to take a miracle to win this today.'

Source: Matt Browne/SPORTSFILE
Looking like it was to be the last hurrah, a switch flicked: "They just turned it on and they played mighty football for the last 20 minutes. They just blitzed them, we won by four and we probably could have won it by more. Those hard games have really stood to us this year."
The All-Ireland semi-final against Kilkerrin-Clonberne was a more straightforward win, more than likely given the fact they were well-steeled for it off the back of the others.
No doubt though, Saturday's showdown in Parnell Park against Foxrock-Cabinteely, and the quest to make it fifth time's a charm, will come as their biggest test to date.
Interestingly, Ronayne was involved with the Dubliners as a coach in their first year in existence in 2005. He speaks fondly of his time there but admits that as a "bit of a home bird", he couldn't wait to get back down south again.
Now a PE Teacher in Cahir, Ronayne was poached to Mourneabbey by two of the four O'Sullivan sisters, Ciara and Roisin, when he was working with UCC's O'Connor Cup-winning side — and he hasn't looked back since.
"I suppose I'm 35-40 minutes away from there," he continues. "It's not a good road but the journey over every night is very short because of the bond that has been built up and the respect that they have, their parents have and the people within the community have shown me all the time.
"There's a huge attachment there and whenever I do go, whether it's this year, another year, or in 10 years' time, it's going to be a huge part of my life gone. I've made lifelong friends in Mourneabbey, I'd consider some of them my best friends.
"That's the respect I have for them and that's why I keep coming back. People ask, 'Why do you keep doing it?' It's out of that respect that I have for them and the enjoyment they give me and the brilliant days out we've had – look, the bad days as well but as I said, the honesty that they bring keeps you coming back."

Dejection after the 2015 final.

Source: Ryan Byrne/INPHO
He speaks glowingly of his team, built around freshly-crowned All-Stars and inter-county aces Ciara and Doireann O'Sullivan, the community spirit and everyone involved with the club.
How remarkable it is that they keep coming back. Time and time again.
"We're bottling up that hurt," he says, and his sensibility shines through. "but the hurt won't get us over the line on Saturday.
"I think it's going to be a help, but certainly we need to be better in other places, The hurt itself won't get us over the line but it certainly has driven them back down to the field to go again.
But above all, what exactly would it mean to the players?
Mourneabbey lifted the All-Ireland junior title in 2005, and added the intermediate crown to their cabinet in 2007.
If they were to finally lift the senior silver, it would make for an historic treble. They'd become the first-ever ladies football club in the country to make it three titles across three grades.
There's a small group that have been there since '05; through thick and thin, the ups and downs, the highs and lows; and would make it a remarkable individual treble should they seal the deal. Of the nine titles available to ladies club footballers — county, provincial and All-Ireland at all three grades — they'd finally have all nine.
And of course, the previous four years' hurt and heartbreak would finally be erased.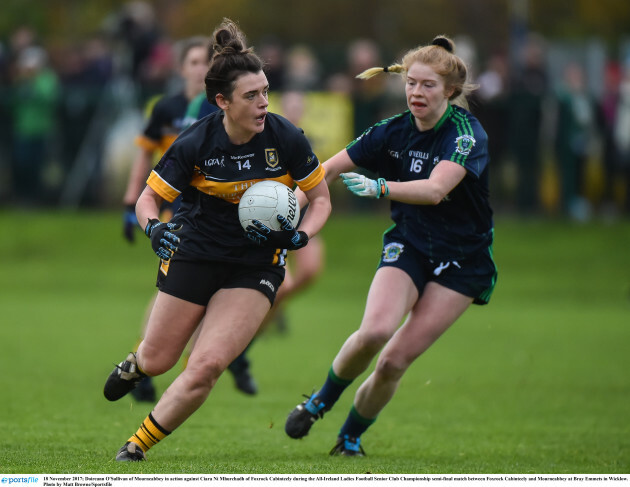 Doireann O'Sullivan in action in last year's semi-final.

Source: Matt Browne/SPORTSFILE
"I think Mourneabbey will never see anything like it if they do!," Ronayne grins.
"We know that we could play at our best Saturday and still not win. But there's such drive within them, they have that monkey on their back and they'll want to win it so badly.
"I suppose that's something we've tried to take away from it this year. We're not talking about winning it, we're just talking about us performing. If we can perform, we will win I think. That's not being disrespectful to anybody. I think if we perform, we'll win," he concludes.
A last chance that they're ready to take with both hands.
Subscribe to our new podcast, Heineken Rugby Weekly on The42, here:
Sports