After a first Cork title in 33 years, St Finbarr's head to take on Dr Crokes in Munster tomorrow.
33 YEARS OF waiting. Eight county final losses. Plenty disappointment and frustration to go around.
When that barren spell was eventually halted last Sunday week, the breakthrough was every bit as glorious as they had envisaged it would be.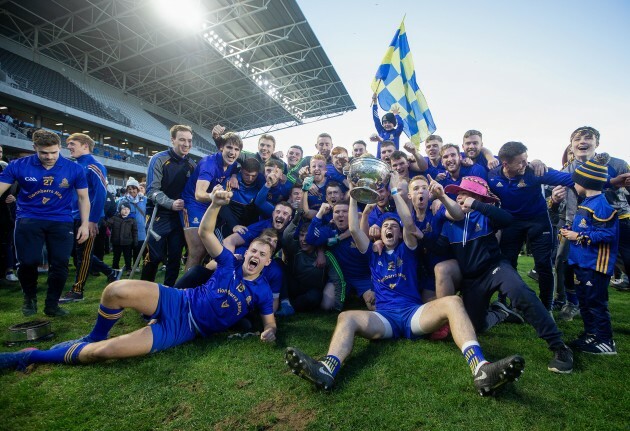 St Finbarr's players celebrate after their final victory over Duhallow.

Source: Laszlo Geczo/INPHO
There's a rich tradition behind St Finbarr's but that Cork football title drought since 1985 had been grating for quite a while.
Ray Keane is St Finbarr's manager and a Caherciveen native. He was immersed in the heart of their post county final celebrations in Páirc Uí Chaoimh and yet had a sense of detachment that afforded him the chance to absorb it all more.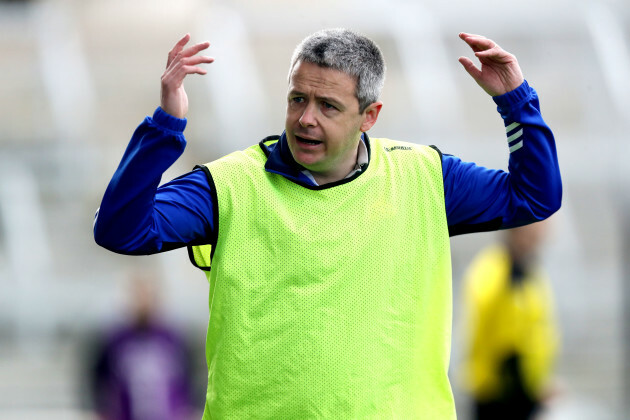 St Finbarr's manager Ray Keane (file photo).

Source: Bryan Keane/INPHO
"I'd never seen anything like it. It was probably relief for those people that have been involved, the likes of Mick Comyns, Tony Leahy, Liam Hodnett and these fellas around years at it, trying to knock on the door, break it down and eventually get through.
"Then the joy for the older people, the locals that may not be involved in the day-to-day running, to see them coming up thanking you and crying, I couldn't get over it at all.
"To see it at first hand was amazing, it's something that will live with me for a long time."
A long-awaited victory will resonate more deeply with some. St Finbarr's had reached the county final twelve months previously and departed empty-handed. It was not the first setback in a decider for a core group.
Five players that featured in this victory – Colin Lyons, Michael Shields, Glen O'Connor, Ross O'Dwyer and Robert O'Mahony – played in a team that came up short in 2009 against Clonakilty. They suffered defeat again in 2010 against Nemo Rangers at the last hurdle.
13 days ago marked a fifth county senior final appearance for that group. Success was hard-earned and sweetly-savoured. A lesson in perseverance.
Great week winning and celebrating with @the_Barrs Few nice moments during the wk… Nice to bring the cup to our mates gy and also celebrate the cup with little Jamie 🏆👍#HappyDays #Barrs #DefMorethanagame pic.twitter.com/3DAvrXV60M
"When you go through your career, it's probably not something you're looking at as you go along but when you get to the last two to three years, you know there mightn't be so much more left in you," says Keane.
"That's when you say I have to win this one or it'd be great to finish up with one. From that point of view, it's lovely for those lads. They can turn around now and say they got over the line, they've a county medal eventually.
"It might have been as easy for some of them to walk away in the past but they stuck at it."
Drill down into every team triumph and you will find individual stories weighed down with emotion.
Part of the reason why St Finbarr's interminable wait and ultimate victory garnered so much attention was the catalogue of honours the club had accumulated.
Between 1979 and 1987 they won four county and Munster titles along with a trio of All-Ireland crowns. That team was backboned by a bunch of storied names, starting with their number one between the posts. John Kerins was in goal for that 1985 county final win. In 2001 he passed away after a cancer illness. In 2018 his son of the same name was in goal for St Finbarr's success.
John Kerins began this year as the club's junior goalkeeper. He jumped up to the intermediate ranks as the season progressed and then towards the end of the senior quarter-final win over Douglas he was suddenly propelled into action.
Regular netminder Declan Murphy advanced to scramble away the ball as Douglas attacked but his bravery came with a cost as he broke his leg. The chain of events that ensued struck a chord.
33 years of hurt has finally come to an end! During the last 17 of those 33 years there has been so much personal hurt, to have a day like yesterday meant so much to me and both family and friends! Safe to say it's more than just a game #AllezLesBleus @the_Barrs pic.twitter.com/9tzNIdChRd
"We did some video analysis the previous week some video analysis, highlighting the Mallow game and I was encouraging him (Declan) to come out a bit more towards the lad coming in," recalls Keane.
"Ironically and unfortunately he broke his leg doing exactly as was asked and he was the difference between the two teams at the end, we won that game by three points.
"Unfortunate for him to miss the subsequent semi-final and final but he had a huge bearing on us getting over the line against Douglas and the part he played wouldn't have been lessened in my mind ever. It was a huge single moment.
"John played junior, intermediate and senior all in the one year and that's an amazing achievement in itself. More importantly I suppose to seamlessly fit in the way he did and didn't put a foot wrong whatsoever.
"On a personal level I'd just be delighted for him, he's persevered for the two to three years that I've been in there. It's probably a position where you're not going to get that many opportunities. The thing is when you do get the chance you have to take it and I was thrilled for him to get the chance eventually and more importantly to take it.
"Given the family history, he now has something to share with his father in the sense that he won a county medal as well in the same position after all those years. The pictures floating around of him after are just very touching and poignant."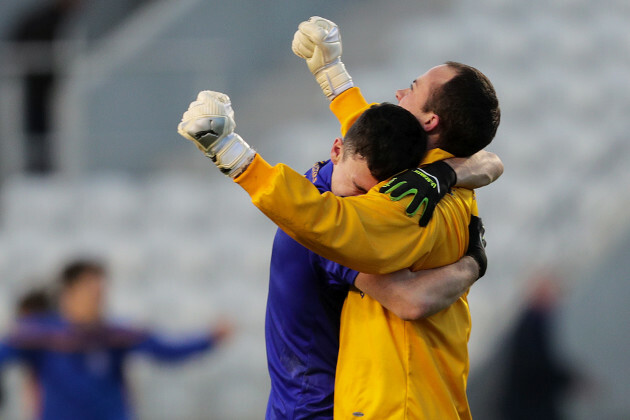 John Kerins celebrating at the final whistle of St Finbarr's Cork final win.

Source: Laszlo Geczo/INPHO
Tomorrow their season moves in a different direction. It was 33 years since their last county win but in 1986, 1990 and 1991 they had stepped out into Munster as Cork's club representative after losing out to divisional outfits. The first of those journeys ended with an All-Ireland win. They lost to Clonmel Commercials in their 1990 Munster opener and to Dr Crokes first day out in 1991.
Killarney is the destination tomorrow to the home of the club that have taken a stranglehold on Kerry football. Seven titles in the last nine years including a freshly minted three-in-a-row.
Keane can appreciate their stature. He started on the South Kerry team that knocked Dr Crokes down in the 2005 final. Twelve months later he came off the bench as they repeated that feat in Kerry. A bunch of those Dr Crokes players are still at the coalface of their effort.
"If you go through their whole setup, the amount of work they do at underage is frightening. They have minor teams after minor teams coming through. Pat O'Shea is obviously a huge part to play in that and a huge asset.
"He's an excellent coach. As a young fella I remember him coming around to the schools in South Kerry. You'd look forward to the day he'd be coming in to coach you. He's been very successful in practically every team he's touched.
"You tell me another club in the country that could afford to have Colm Cooper, Eoin Brosnan on the bench, Jordan Kiely, (Michael) Potts (and David) Naughton? There's lads that have so many All-Ireland medals, it's frightening. They're very well experienced, they've been around the block. It's two years since they won the All-Ireland and I'm sure they're looking to get back and have another crack at it."

Colm Cooper and Eoin Brosnan celebrating Dr Crokes county final victory recently.

Source: James Crombie/INPHO
But illustrious opponents and an onerous away day in Munster cannot dampen the enthusiasm in their Togher base. They have a few absentees tomorrow – Murphy and Cillian Myers Murray have long-term injuries, Cork defender Sam Ryan's hamstring is still bothering him – but their panel has been well-stocked all year and supplied them with crucial bench options at various times.
Keane is a fully paid up member of the club championship fan club. He won an All-Ireland junior medal with St Mary's back in 2011, his brother and newly-appointed Kerry supremo Peter wearing the bainisteoir bib. Having witnessed how a winter run can enliven a community, he's looking forward to Cork's kingpins battling against Kerry's best.
"Look it's a totally different journey and it's a great journey if you can be lucky enough to go further and further. But the one thing I love about the club championships, is at junior and intermediate level the tiny parishes that get their big day out in Croke Park or go up to various different parts of the country with busloads of the community.
"It's a fierce coming together for a community. To be at any of these games regardless of who's playing, the buzz or the feeling you get coming away from them is unique really. This is totally new to us. We're under no illusions going down there, big underdogs.
"Look we'll go down, give it a crack and see where it takes us. From a player's point of view, it's about going down and going at it."
They've waited long enough to relish a new challenge being placed in front of them.
Subscribe to our new podcast, Heineken Rugby Weekly on The42, here:
Sports