The Ireland wing has developed a quiet confidence through the years and an ability to stop himself from doing unnecessary damage to his body.
KEITH EARLS HAS learned the hard way.
There is a time and place to tough it out. And there are times when you have to shun the instinct to push through barriers of pain and discomfort.
Earls cut a distinctly disgruntled figure as he trudged out of the warm-up for Munster's Champions Cup opener in Exeter last month. But he had nipped a problem in the bud before it bit him hard.
"It is just from knowing my body so well, and my experience," he says of the hamstring strain that kept him sidelined for two European weeks.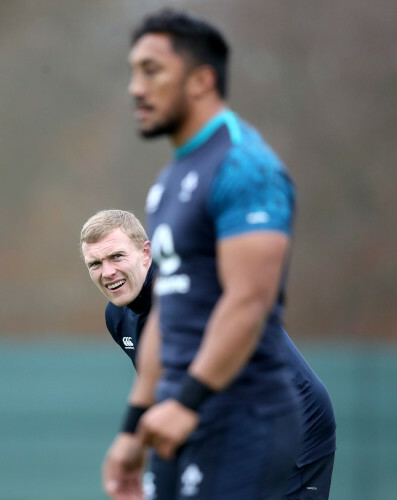 Source: Dan Sheridan/INPHO
"I knew I was just on the borderline of completely tearing it. I felt it, and I probably could have went after the first kick-off, but that would have been it. And that would have been disastrous for the team if I'd gone after the first kick or first chase. Because we'd have been down a sub straightaway.
"It was a hard enough thing to do, to step away. But at least Sweets (Darren Sweetnam) came in and, look, it was an alright result in the end."
It takes a certain measure of confidence to call yourself out of such a big game. Confidence in your reading of the niggle, confidence that you will be around to fight another day and confidence that your team-mates are capable of doing a job in your place. It's the sort of big-picture decision that experience makes all the easier to arrive at.
It was just a small moment, and a straightforward decision based on Earls' methodology.
It's always worth sitting up and taking notice, when the experienced wing speaks about his mental approach and skills. He keeps a strict limit on his frame of outlook to keep himself rooted firmly in the present tense. So when his hamstring didn't feel quite right, the right decision in the moment was to rest it up.
The Munster flyer uses a similar approach when it comes to avoiding the distraction of the very eye-catching Test against New Zealand next weekend. Saying 'we're only focused on Argentina' is far easier said than done. But Earls is so consistently next-job focused that it rings true.
"I'm quite experienced now," the Limerick man said in Carton House this week, "I'm only focused on today, not even Saturday, building my little time-frames I have for the game and I don't try to get away from (them)."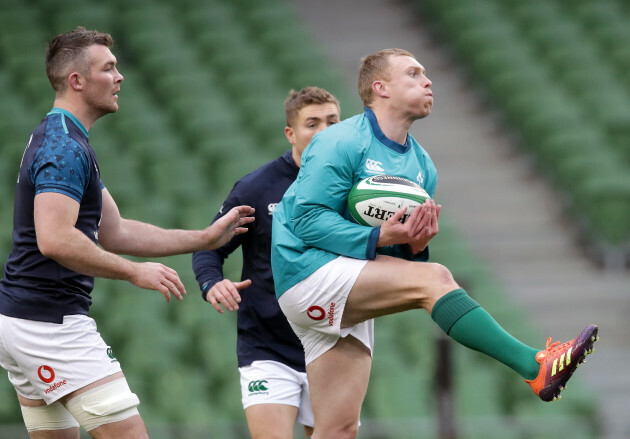 Earls at the captain's run yesterday.

Source: Billy Stickland/INPHO
Earls has worked and studied the cutting edge of sports psychology to equip himself with this mindset. And having grown up in a house with a Munster legend, entered the senior ranks when the southern province were at their pinnacle and now a decade on from his international debut, he has seen a great variety of methods and approaches. There's no denying it, this latest crop of talent led by James Ryan and Garry Ringrose are very different animals to the old warhorses.
"Yeah, they are different. Not much bothers them," says Earls.
"Whereas the lads that (have) come in, they want to win, it is not a fear of losing. They are built differently than us. They are built with great confidence and hopefully it will keep carrying on like that."
It's put to Earls that he and the generation that preceded him have played a major part in the in-built confidence running through the young guns who surround him in Ireland camp.
This generation have been raised and exposed to rugby at a time when Irish teams have consistently challenged for trophies and the highest standards. It wasn't quite like that for players born in the 70s and 80s.
"I suppose the big thing is that they're being themselves," counters Earls.
"I know from personal (experience), times that I used to be trying to be like the lads, rather than being myself.
"Jordan (Larmour) is coming in now and nothing would faze him, no one is trying to change him.
"Whatever Jordan needs to do before a game, I think we can accept now. If Jordan likes to go off and play with a soccer ball and then he performs like that, then leave him be.
"Everyone's different, I think we've gotten better at accepting people's different individual personalities."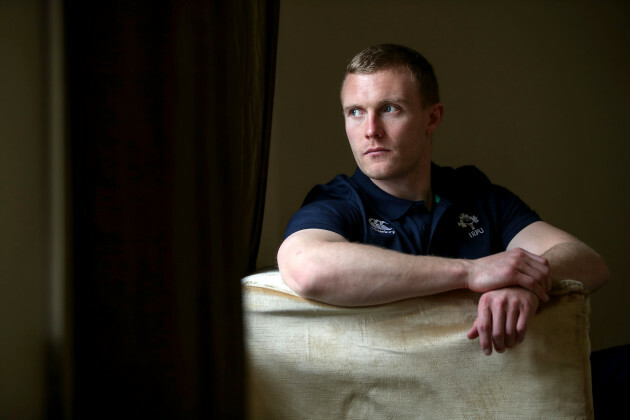 Ireland's record World Cup try-scorer in Carton house this week.

Source: Dan Sheridan/INPHO
Perhaps the most telling recent example of Earls' individual personality came a fortnight ago when the announcement of his new three-year IRFU contract landed with the humble admission: "It would be hard to see me playing anywhere else."
It was typical of Earls' character that, even after a year in which he displayed some stellar form and helped Ireland to a Grand Slam, there was no public horse-trading or speculation inviting big-spending clubs to examine his talents.
"First of all, I love playing for Munster and I love playing for Ireland," said Earls, delighted to have his deal wrapped up a year before the current contract expires.
"Body-wise, physically, mentally and off the field Ireland and our provinces look after you so well. That was a massive factor, the way I'm looked after here.
"It's my home and I don't want to play anywhere else."
It' won't have been lost on Earls that the security of this new contract feeds into his mindfulness and that ability to retain a tight focus on the task at hand.
"I know fellas, involved in talks now, where it is not working out and they get distracted and it takes away from their game. Thankfully I have a young family and I don't have to worry about anything for another three years."
He wears a wry smile when he takes a rare leap into the future and notes that he will be 34 when it comes time to broker a new deal, and he suggests there may not be another new contract to follow it up. But he hopes to limit the rate at which pace naturally diminishes as an athlete approaches his mid-30s and perhaps push through. But of course, these are all thoughts and conversations for another day.
He has learned the hard way that rugby has a nasty habit of tearing up even short-term plans. So he goes on, confidently, fearlessly, making the most of the present.
Subscribe to our new podcast, Heineken Rugby Weekly on The42, here:
Sports