Motoring expert Dave Humphreys explains why the new electric vehicle from Volkswagen is making headlines.
THE VOLKSWAGEN ID.3 is soon to arrive in Ireland, and it marks a new and significant chapter for the company.
It is the first of many new purely electric 'ID' models that Volkswagen is launching over the coming years, as part of its 'Way To Zero' plan to be a 100% carbon-neutral company by 2050. The aim is to lead the way towards increasing the popularity of EVs, while delivering all ID models with a carbon neutral footprint. 
What exactly is the Volkswagen ID.3?
It's an entirely new electric hatchback that marks a milestone for the company as it begins to shift towards electric vehicles (EVs). Much like the first Beetle, and subsequently the Golf, the ID.3 aims to play a crucial role in changing public opinion – this time towards locally emission-free vehicles.
It will offer buyers a choice of battery sizes to better suit their requirements with realistic driving ranges and provide hassle-free access to the public charging network along with the choice of smart home chargers. Not only does it feature the latest in-car technology, it contributes to a more sustainable future. It is now on sale and available to order. Test drives will be available at Volkswagen retailers within the next one to two weeks.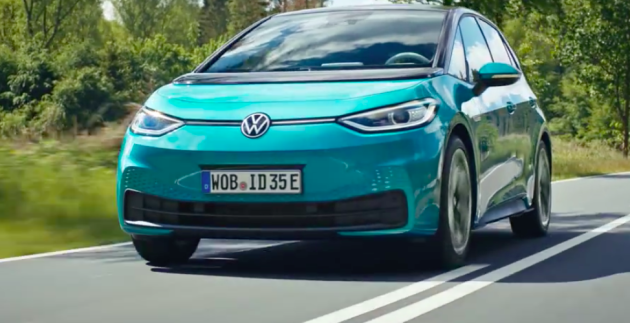 Source: Volkswagen
And what's so special about it?
Volkswagen produces electric versions of some of its models already, but what sets the ID.3 apart is that it has been designed from the ground-up exclusively as an EV. That's reflected in the unique exterior design which marks a new direction for the company. It takes the conventional five-door hatchback layout and shapes it into a sleeker and more modern look. Distinctive headlights include an illuminated light bar that runs across the ID.3's front, making it instantly recognisable in traffic. 
As the battery fits within the floor of the car, it means interior space is also maximised as the wheels — available up to 20 inches — get pushed out to either end of the car. Despite being similar in size to a Golf, it has interior space that is more like that offered by the larger Passat saloon.
It will feature some of Volkswagen's latest technology, including a Travel Assist system that takes much of the strain out of mundane motorway driving. The car can maintain a pre-set safe distance to the vehicle in front and follow it within a marked lane providing you keep a hand on the steering wheel. In stop-start traffic, the car can bring itself to a stop and then move away when the traffic starts moving, resulting in a more relaxing driving experience.

Source: Volkswagen
What does it look like inside?
The modern feel of the ID.3 is clear from the moment you sit inside the airy cabin. Its raked windscreen provides excellent visibility. The A-pillar, which is the thick supporting structure that usually braces the windscreen, is divided in two so as to increase the driver's field of vision and reduce blind spots. 
As you might expect from such a modern looking car, the interior gets a large touchscreen display and a digital instrument cluster, with the option of an augmented reality display that is projected onto the windscreen to aid navigation.

Source: Volkswagen
Almost everything is controlled through the infotainment system, meaning there are few physical buttons. A wireless charging pad for your phone and wireless connectivity adds to the clutter-free appearance inside.
A voice-activated assistant will be on hand to carry out certain functions, and it can even detect who is speaking in the car. Other neat touches include Play and Pause symbols on the accelerator and brake pedal, available on the limited edition ID.3 1st model. On the practical side of things, the ID.3 gets 385 litres of boot space (that's equivalent to a Golf), and you can fold the rear seats down to boost this to 1,267 litres.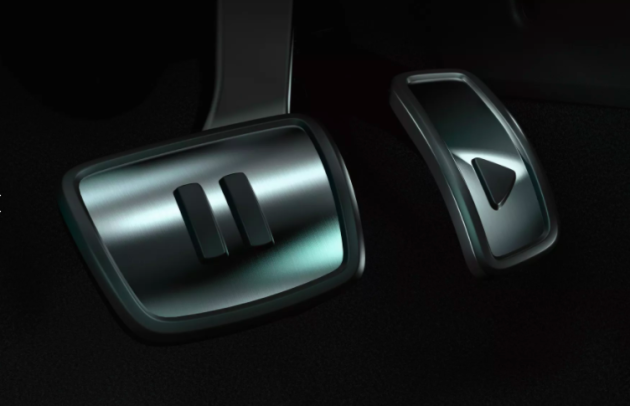 Source: Volkswagen
So what makes it different from other electric cars?
As part of its Way To Zero initiative, Volkswagen's commitment to emissions-free motoring begins before the car is built. All of the raw materials are sustainably sourced, or offset where this is not possible. The factory where the ID.3 is produced uses 100% green energy and final transportation to the customer is done with further carbon offsetting, to ensure that the vehicle is delivered to the end customer with a certified carbon-neutral footprint.
Initially, the ID.3 will come with a 58kWh battery giving it a single-charge driving range of up to 424 kilometres according to the WLTP test cycle. (That's the current industry standard test that uses a more realistic approach to gauge an electric car's range.) The ID.3 beats several of its direct competitors in terms of how far it can travel between charges. 
Volkswagen has a larger 77 kWh battery version also on the way – it'll be available to order in the next few weeks – offering more performance and an even longer driving range of up to 540 kilometres, so there will be one to suit almost everyone. It balances performance and driving range well, with brisk acceleration and enough power to comfortably cruise at motorways speeds.
A versatile 11kW AC and 100kW DC charging system means that owners can top up more quickly than some other electric cars at more charge points. At the 100kW rate, such as that offered by the IONITY network, it is possible to charge from 5 per cent to 80 per cent in 35 minutes. Volkswagen also includes 2,000kWh of free public charging in the first year up to a value of €600 (at participating charging outlets).
Will I be eligible for any grants?
At present, the ID.3 benefits from an SEAI grant and VRT rebate adding up to a total of €10,000 if you are a private buyer. If you're planning on installing a home charger, the SEAI offers up to €600 towards the purchase and installation providing it is parked off-street. More detailed information regarding this is available on the SEAI website. Business and commercial buyers receive VRT relief to the value of €5,000, and there are BIK exemptions for battery electric vehicles and accelerated capital allowance also. Until July 2022 there is also an electric vehicle toll rate that offers further savings of up to €500 per annum.
The all-new Volkswagen ID.3 1ST Edition is now available to order, heralding in a new and dynamic era in the world of electric mobility. Electrifying performance meets pioneering design, ranges suited to everyday use and mobility with a carbon-neutral footprint. Find out more about Volkswagen's Way To Zero plan here.
All this for people seeking change. The future is ready. Come on board. Contact your local Volkswagen retailer here.