Every 10 minutes, a child in Yemen dies from hunger and preventable diseases.
AT SEVEN MONTHS old, Rawabi should be learning to sit up on her own, to crawl and to respond to the sound of her name. 
Instead, she is in hospital in the capital of Yemen, Sana'a. She is too small for her age, severely acutely malnourished and could die without treatment.
Her father, Ahmed, tells the doctor that Rawabi was two months old when she started getting sick. "We tried to treat her at home," he says. "I work as a driver, but the war has affected our livelihood. We could not afford the hospital treatment." 
On top of six years of conflict and economic decline, the coronavirus pandemic has worsened an already dire situation in Yemen, where a child dies every 10 minutes from hunger and preventable diseases, like cholera. 
"This has pushed families who are already exhausted and extremely vulnerable to the brink," says Philippe Duamelle, UNICEF Representative to Yemen. 
Rawabi is just one of 400,000 children under five years old who are suffering from severe acute malnutrition and are at risk of dying without urgent treatment.
Race against time
To help prevent this from happening, UNICEF's team is on the ground working tirelessly to deliver lifesaving humanitarian assistance. 
Two million children directly depend on UNICEF for water and sanitation, while 20 million people (half of which are children) are at risk of preventable diseases and are in urgent need of basic health care assistance. 
As it stands, half of the hospitals and health facilities in Yemen have been destroyed, and those that are still functional are facing huge shortages in medicine, equipment and staff. 
UNICEF is one of few organisations that still operates inside Yemen, and relies on donations from the public to provide its lifesaving services, which include providing food, vaccines and safe drinking water to millions of children, as well as keeping primary healthcare centres and hospitals operational. 
Donations from the public are urgently needed to ensure the vital work of UNICEF reaches as many children as possible. Without continued help, the consequences will be "dramatic", says Duamelle: "Children will suffer from preventable diseases due to inadequate access to clean water and improved hygiene, and basic healthcare, including immunisation. Many others will miss out on their education with far-reaching consequences for their future, including multiple forms of abuse and exploitation.
In addition, the lack of access to their most basic rights – health, education, nutrition, protection, clean water and sanitation – will have a long-lasting impact on their life.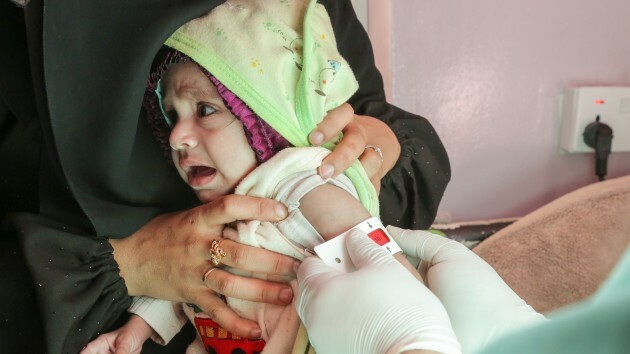 Rawabi is being measured by a doctor with a MUAC tape. She measures red on the MUAC tape, meaning she is dangerously malnourished.

Source: ©UNICEF/Yemen/2020/Haleem
Action must be taken now "to prevent the loss of an entire generation of Yemeni children," says Duamelle. "This would have dramatic consequences not only for the country, but also beyond. We all need to remain mobilised to prevent this disaster from happening."
Each donation made to UNICEF's Yemen emergency appeal will help children and their families access a number of services, including in health, nutrition, water, sanitation and hygiene. Duamelle is appealing to people to urgently contribute to the cause:
"Millions of children and their families depend on the assistance we provide. We are in a race against time and every contribution counts."
An ongoing food crisis, on top of Covid-19, is threatening the lives of around 2.3m children in Yemen. Help provide essential life-saving supplies to children who need it most, like Rawabi, by donating to UNICEF's Yemen emergency appeal now. 
Seven-month-old Rawabi is one of 400,000 children in Yemen suffering from severe acute malnutrition.