Sheikh Ahmed Zaki Yamani, the former Saudi oil minister who was the public face of OPEC during the 1970s and '80s, turns 90 today. His life story is a biography in the name of oil.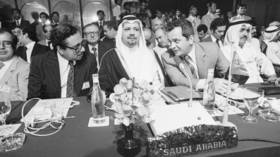 When Sheikh Ahmed Zaki Yamani was born in Mecca on June 30, 1930, Saudi Arabia did not exist. It was only in September 1932 that Abd al-Aziz ibn Saud established the Wahabite Kingdom by uniting competing tribes. 
Next to Liechtenstein, the only other state that carries the name of a family is the Saudi Kingdom. And for decades, the most prominent Saudi in the world was Yamani, who was better known than the various kings he served. His life is an amazing story reflecting the cycles of the oil market in the 20th century.
It all began in 1962, when Abdallah Tariki was suddenly ousted from his post as Saudi oil minister. Yamani became his successor and remained at the head of the Saudi oil ministry for 24 years, until 1986.
It was Tariki who, together with his Venezuelan counterpart Perez Alonso, had established the concept of OPEC, the Organisation of Oil Producing Countries. It came into existence in September 1960 in Baghdad, and only a few took note of its creation.
Taking back control
In those years, the group of the 'Seven Sisters', mostly Anglo-Saxon oil giants such as Shell and Standard Oil, controlled the Middle Eastern oil market, from upstream exploration to downstream marketing.
These companies rarely consulted the governments of the oil-rich countries. The emirs, presidents or generals received regular royalties from the companies – sometimes more, sometimes less – but their leverage over their only resource was limited or inexistent.
The creation of OPEC did not change this, to begin with. Things only started to move radically when nationalisation of the oil reserves began – and Yamani was the key power broker in this.
Read more
Virtual OPEC+ meetings regulating a paper oil market can lead to slipping commitment and more volatility

In the case of Aramco, which turned into Saudi Aramco, Sheikh Zaki negotiated the government buyout that was completed in 1976. His word of honour assured comprehensive compensation for the US company, which initially continued to manage the business.
'Yamani or your life'
Yamani grew up in a well-established family of scholars of Islamic law. Their family name means 'the one who comes from Yemen', the truly ancient civilization on the Arabian Peninsula. His father served as mufti for various regions and Zaki grew up in those turbulent but vibrant years, marked by the decline of colonial powers, with a sense of modernity and a traditional education.
Given his talent for languages (he is fluent in Arabic, English and French), the young lawyer was sent to New York and Harvard to study law. Back home, he started to work for the Ministry of Finance and soon became the buoyant oil minister who often ran things the way he considered right.
It was Yamani who managed, more or less, the turbulent 1970s. He first emerged onto the world stage during the oil embargo imposed by Arab OPEC members in response to US support for Israel during the 1973 Yom Kippur War. 
Yamani's plans to cut production in stages and – for the first time – for producers to influence the price of oil (it multiplied by four within three weeks, from USD$3 per barrel to $12) severely hit the economic well-being of many countries, and the notion of "oil-rich Arabs blackmailing us" became fixed in the West's mind.
To gain political support, Yamani travelled through Europe, the US and Japan, and both he and OPEC became well known for the first time. He was described as "the man of the moment" in a Newsweek cover article in December 1973, while another headline, lamenting OPEC's stranglehold, simply cried that it was a case of "Yamani or your life."
Since those days of crisis, he and OPEC frequently remained in the headlines. The next price hikes came in 1979 following the Iranian Revolution, which turned into an Islamic Revolution. As the old saying goes, in order to enjoy the 1970s, one either had to be crazy or a member of OPEC.
Surviving the Jackal
In December 1975, a terrorist squad led by Carlos the Jackal entered the OPEC premises in Vienna and took the oil ministers as hostages. Yamani, as the one with the highest profile, was slated to be executed. At one point, Carlos told him he would be killed in 30 minutes unless a statement sent to the Austrian government was read out on the radio. Yamani asked to be able to start writing his will. With ten minutes to go until the deadline, he discovered the statement had been read out and he was temporarily reprieved.
Later, the terrorists – self-named as the 'Arm of the Arab Revolution' and seeking the liberation of Palestine – flew their hostages to Algeria, where negotiations ended the ordeal, and Yamani survived. He later recalled: "I was not really so scared of death as much as I was concerned about what I hadn't done in my life, and those I was leaving behind – my children, my wife, my mother, and so on."
Read more
OPEC+ key breakaway asks BP to cut production at its biggest oilfield to finally comply with oil deal – report

Only a few months earlier, Yamani had been standing by the side of King Faisal when he was assassinated by his nephew. Even the gunman thought he had killed the oil minister as well, but Yamani was somehow spared. He is a survivor.
The days of decline
With the golden days of the 1970s over for OPEC, the next decade brought with it a collapse in oil prices. Supplies increased as dependent nations began looking for oil outside of OPEC, and new fields came on stream in the North Sea, Alaska and elsewhere – while demand declined due to economic recession, more energy efficiency and a new age for the automotive industry. Asian cars, smaller and more economic, replaced American 'gas guzzlers'.
Did Yamani wrongly assess developments, or was he simply not in a position to alter the flow of the markets? Saudi Arabia, like many other oil producers, stumbled into growing trouble with debts and cutbacks in production. After several disagreements over strategy with King Fahd, Yamani was dismissed as minister in October 1986.
A new start
But he would not be Yamani if he did not reinvent himself. In 1990, he established his own think-tank, the Global Centre for Energy Studies, in London. His writings and statements were often sharply critical of OPEC, into which he had tremendous insight.
I had the chance to meet him in Washington in 1989; he was a charismatic speaker and a gentleman, of a generation that is now gone from the world of oil and elsewhere. His sober sense of humour, his stylish diplomacy (Henry Kissinger once remarked that Yamani's negotiation style was to wine and dine other dignitaries until the point of fullness and lethargy, before beginning protracted talks), and pertinent metaphors on the subject of oil, offer us an inspiring legacy. 
It was he who once stated that oil alliances are stronger than Catholic marriages. How true, for the bond between Washington and Riyadh has endured, and was not even harmed by the involvement of 15 Saudi nationals in the terrorist attacks of 9/11.
And when it comes to peaks in demand, nobody put it better than Yamani in an interview with the Daily Telegraph back in June 2000: "The stone age came to an end, not because we had a lack of stones, and the oil age will not come to an end because we have a lack of oil."
Yamani predicted a price crash for 2005; it happened a little later, in the autumn of 2008, and was repeated in 2014. Currently the crisis in demand is unprecedented due to the Covid-19 pandemic.
Words of wisdom
Today the old seigneur of the oil world, as it existed once upon a time in the grand hotels between Geneva and Beirut, will turn 90. It would be interesting to listen to his view of the surreal times the world is facing. Will mobility change profoundly? Will this new format of OPEC-plus remain? What might Saudi Arabia look like in five years?
Or should we better simply contemplate another useful quote by him: "In the short run it is politics that shapes the price, but in the long run the fundamentals of supply and demand make the oil price." Happy birthday, Sheikh Zaki! I hope you got the chocolate I sent you by mail from Vienna.
Think your friends would be interested? Share this story!