Including why you shouldn't do the tour on your phone.
IF YOU'RE IN the market for a new home, you're probably familiar with the prospect of virtual viewings.
A response to the restrictions brought in as a result of Covid-19, virtual viewings allow house-hunters to step inside properties they're interested in through their laptop screen. 
This is one of many Covid safety measures brought in by estate agents and developers over the past year. These range from socially distanced timed viewings, where buyers are allocated a set time slot rather than being part of a group viewing, to more technology-driven approaches. Glenveagh Homes, for example, have a 'smart viewings' offering in which allow the buyer to walk through the house while connected to an agent via video conferencing, which is set up in advance in the house.
"Nothing beats an in person viewing, but a virtual tour is the very next best thing," says Tony Deane, Director of Moovingo. "While pictures and floor plans are a good starting point to see if a property is suitable, a virtual tour allows someone to move around a property and view a room from different angles, get a better idea of light, space and the overall ambience."
There are a few different types of virtual viewings, explains Deane. "The first is a 3D virtual tour which people can view in their own time." This option is often included in the property listing online, meaning buyers can look at as many properties as they like whenever suits them. There's also the option to do a 3D virtual tour while on video call to the agent, allowing for any questions you may have. The video below shows this format in action.

Source: Journal Media Studio/YouTube
"The next type is a live video call with a buyer from the agent at the property." For this option, the agent walks through the property in real time while on video call to the buyer.
'Virtual viewings make the property more accessible'
While virtual viewings may seem like a temporary solution to current restrictions, Deane says he's seen their effectiveness first hand with buyers who can't wait any longer for in-person viewings to restart.
"During the current lockdown, properties are now going sale agreed in an average of 17 days," he says. "This is due to virtual viewings making the property much more accessible. Previously, we had to host several viewings over four to eight weeks, now we can host several viewings in a day. Aside from buyers already living in Ireland, there are lots of buyers relocating from abroad and virtual tours are key for them."

Source: Shutterstock
Getting set up
So, how can you ensure you're getting the most out of virtual property viewings? Deane says the starting point is setting up your laptop in a quiet room. "We've had one or two people in the earlier lockdowns watching the virtual tour on their mobile phone, and it just doesn't work from a buyer perspective, I don't think," he says.
"We advise everybody to use a laptop or to even link it up to the TV screen if they can to get a better view of it."
The next step is to have a pen and paper ready with a list of questions. While general questions about parking, how long the house has been on the market and what the aspect is still apply, there are a number of questions that might arise only when viewing the property virtually. These include the view from each of the windows, what the storage under the stairs is like and looking around the back garden, says Deane.
"People often forget to ask about the boiler, too, and it's not until the survey happens that they realise it needs to be replaced," he says.
Take advantage of online resources
While virtual viewings generally start outside the property to give a feel for the area, Deane recommends also looking at the house and the street on Google Street View.
"Go up and down the street and look at different routes, see how far it is to walk to the shops or to the nearest public transport. At the top left you can look at the last time the shot was taken, and you might be able to look back over a few years and see the development in the area and how maybe things have changed over that period.
"People always will always ask the agent about neighbours and the agents wouldn't really know who the neighbours are, but you can go on Google Street View or go for a drive up around property."
A virtual walk-through of your average three or four-bed will take about 10 minutes, but don't be afraid to take your time, says Deane. "It's about moving through the property slowly…. It does give you a true feeling of the property. Pictures are great, but they don't show every angle. A virtual tour eradicates that and lets you walk around and check the rooms from a different angle."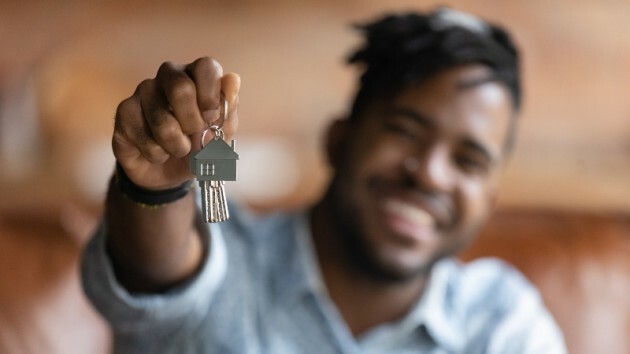 'Put the hours in'
If you're house-hunting, Deane recommends taking advantage of being able to view properties without having to leave your home and setting up a few appointments per week.
"If you really want to move out of where you are, you need to put the hours in and look at as many properties as possible," says Deane.
"You get a real sense of where the market is by going and being a part of maybe 10 different property viewings," he says. "You can do three viewings one Saturday, one or two during the week, another three the following Saturday and then you're nearly up to 10 within two weeks.
"We've also noticed it's a great way for buyers to show family and friends, especially mum and dad who might be contributing to the property and still cocooning or live down the country." 
Ultimately, buyers need to put the same amount of preparation into a virtual viewing as they would an in-person viewing, says Deane. "They need to take the time and put the effort into virtually viewing a property to get the most out of it."
At Glenveagh Homes, our vision is that everyone should have the opportunity to access great-value, high-quality homes in flourishing communities across Ireland. We understand that buying a home is possibly the biggest decision you will ever make in your life – but we want to make it your easiest. Click here to find out more about Glenveagh developments.