Denise Kennerney availed of the Irish Cancer Society's volunteer driver service to get to appointments.
WHEN DENISE KENNERNEY was diagnosed with stage 2 breast cancer in March last year, her mind went straight to her husband and their young family.
"I thought my world was ending," she says. "My first thoughts were about my four young children and my husband Kieran."
However, Denise couldn't avail of her family's support during appointments or treatments due to Covid-19 restrictions, and had to face everything by herself. 
"Even after my surgeries, I woke up alone, with no one by my side," she says.
She had her left breast removed in April, and it was then discovered that her cancer had progressed to stage 3 and had travelled to her lymph nodes. A few weeks later she had further surgery to remove all of the lymph nodes on her left side.
"I found it very hard in lockdown," she says. "My husband came with me for my first appointment, but apart from that I've attended every appointment alone.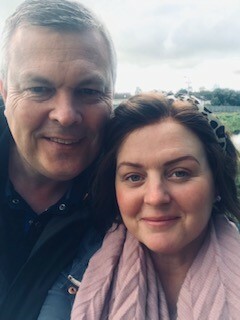 Denise with her husband Kieran.

Source: Irish Cancer Society
"It is very upsetting. I also had to tell my sisters I had breast cancer over the phone which was very tough. I couldn't hug my mother, sisters or best friends throughout, those things we take for granted."
After surgery, Denise underwent eight rounds of chemotherapy, which lasted four and a half months, followed by three weeks of daily radiotherapy in October. She lost her hair, eyelashes and eyebrows during chemotherapy. 
Denise found the Irish Cancer Society's volunteer driver service an essential lifeline for appointments when family members were only able to offer limited support.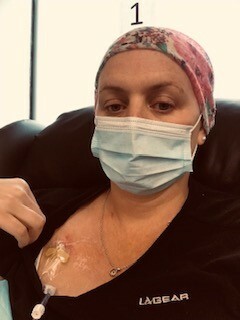 Denise Kennerney was diagnosed with breast cancer last year.

Source: Irish Cancer Society
"The volunteer service really took the pressure off us as a family. My brother would take me to get my bloods done and a volunteer driver brought me to my chemotherapy appointments, thus allowing Kieran be at home for the children.
Without this invaluable service, I don't know how we would have managed all my appointments.
"My brother and husband both work full time, and with lockdown and Covid-19 there weren't many options. I am so very grateful to all of the drivers who I came into contact with and really appreciate all that they do. They are an invaluable part of the Irish Cancer Society."
Nearly one year on, Denise's doctors are very pleased with her progress and she's recovering well, whilst she awaits an appointment for breast reconstruction in the coming months.
Due to restrictions in place across the country, this is a uniquely challenging Daffodil Day for the Irish Cancer Society. The charity is appealing for donations from the public, with funding going to essential services for people like Denise.
Daffodil Day 2021, kindly supported by Boots Ireland, takes place on Friday 26 March.
To get involved, visit cancer.ie where you can make a donation, visit our Daffodil Day shop, or to host a virtual Daffodil Day event.
For support or advice, contact the Irish Cancer Society's Support Line on Freephone 1800200700 or email a specialist cancer nurse today.
Denise received support from the Irish Cancer Society during treatment.