Gunfire erupted during a protest in downtown Austin, resulting in at least one life-threatening injury. A chilling video from the scene shows people screaming and running for cover.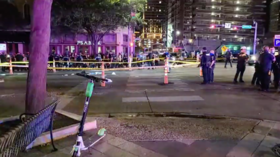 Police asked the public to avoid the area while they investigate the incident, but revealed few additional details.
It was not immediately clear if the shooting was a deliberate attack related to the ongoing protest, but a video from the march captured the moment shots were fired.
#BREAKING: Police are on scene of a shooting that occured during a protest in Austin, TX. The area is blocked off and police are asking everyone to avoid the area. **Video may be sensitive to some.** pic.twitter.com/BDsizx4OkT

— Brennan Prill ⚡︎ (@WxBrenn) July 26, 2020
However, Hiram Gilberto, an eyewitness who saw the incident unfold and captured the video from a mere three meters away, said the shooter was inside a car and the injured person was a protester.
UPDATE Shooting at E 6th St / Congress Ave: #ATCEMSMedics have transported an adult patient to a local trauma center with critical, life threatening injuries. Responders are searching for additional patients, thus far, patient count stands at 1. More information to follow.

— ATCEMS (@ATCEMS) July 26, 2020
"A protestor was shot with LIVE ROUNDS today. I was no more [than]ten feet from the shooter and running towards his car. It was TOO CLOSE. Currently on my way to give a witness statement to APD. KEEP THOSE AFFECTED IN YOUR THOUGHTS," he wrote in a Facebook post.
The initial incident call suggested there was a shooting with "multiple patients involved," but the first responders found only one adult victim. Medics transported him to a local trauma center with "critical, life-threatening injuries."
Think your friends would be interested? Share this story!