We asked the real experts for their favourite parts of this buzzing inner city community.
AS LONG AS Dublin city has been on the map, so too has The Liberties. This inner city neighbourhood dates back to the 12th century, and today is a busy collection of winding streets, cafes, independent shops and world-recognised landmarks.
Spanning from the the River Liffey up to The Coombe and taking in Thomas St, Meath St and Francis St, it's an area that's full of history and character.
The Roe & Co Distillery is one of the more recent additions to The Liberties, housed in a building that has long been part of the fabric and heritage of the area. Inside the old Guinness Power Station on James's St, you'll find Roe & Co's fully operational urban distillery, with a cocktail garden, the Power House bar and a brand new Cocktail Workshop Experience. While you're in the neighbourhood though, what else is there to check out?
We asked the local experts – those who live and work in this small segment of the Dublin 8 postcode – to share their best bits…
'I moved to the area in September 2018. I fell in love with the winding and crisscrossing streets with shortcuts to different parts of town, the sense of history in the old bricks of the various buildings around St James's Gate, and the variety of shops and services that literally cater to every need (be it a birthday cake from Mannings or a buzzcut in Fades & Blades). They all add up to a real sense of character that is rapidly disappearing in the city. My favourite way to spend a free hour or two would be to meet a friend on Thomas St, and then head to Urban Plant Life on Cork St to take in the greenery and expertise on hand.'
David O'Shaughnessy, editor

The old Guinness Power Station, one of many historical buildings in the area, and now home to Roe & Co Distillery.

Source: Roe & Co Distillery
'I've been working in the Liberties for a couple of years now and I love the spirit of the place. There's such a welcoming, community feel. My favourite mornings start with teaching a class in my cosy little yoga studio, Yoga Kitchen on Francis St. Any aimless stroll around the area will likely take you to somewhere lovely!'
Sarah Jordan, yoga studio owner
'I've lived on Francis St for nine years and I love the strong sense of Dublin's history you get here, and the characters that live in the area. On a sunny day, I head to St Patrick's Park, in front of the cathedral. You can always find a spot to sit and catch up with a friend, read a book or just watch dogs playing on the green.'
Conor Behan, broadcaster and DJ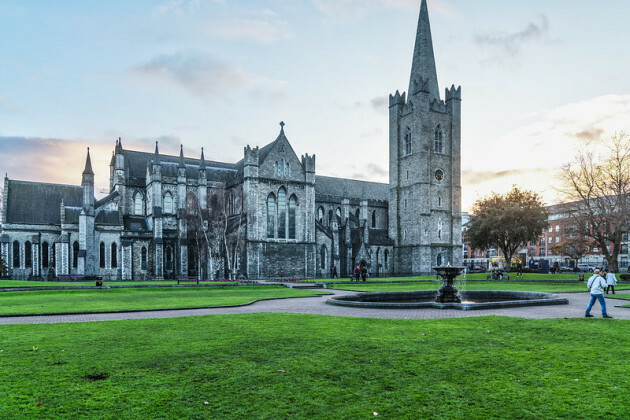 Late afternoon in St Patrick's Park.

'Since I first moved to the area 10 years ago, I've seen a lot of change in The Liberties. There are deadly cafes and restaurants but you can also pick up groceries from a street vendor or just watch the local young lads ripping around on their horses. I love Meath St in particular, and the Pimlico corner shop is another favourite – they sell all sorts of stuff from milk and beans to tennis balls and badminton rackets. I can't think of any other capital city where you'd get that sort of thing.'
Conor Finnegan, animator
'Even after three years here, I'm still noticing old buildings, street art, shop fronts, and new nooks and crannies here and there. I walk most places and I purposefully walk through some of the small and winding residential streets off Meath Street and Francis Street – Reginald St and the Virgin Mary statue always get a look in.'
Orla Ryan, PR director

Between Reginald St and Gray St.

Source: William Murphy/Flickr
'The Liberties has everything you need for any random artistic projects or DIY jobs! I particularly enjoy seeking out objects and homewares from the Valu Mart at The Carpet Mills on Thomas Street or crossing the road to Alfa Bargains. I've lived in the area for nine years and love its ageless charm.'
Sarah Edmondson, artist
'I've been living and renting in the Liberties for about four years. We recently bought a house in the area, so it definitely feels like home now. I love the chaos of the market and the mix of old and new, but when things get too busy, I escape to the solitude of a very special bookshop called Marrowbone Books at The Coombe. It's a true hidden gem and the couple who run it have just re-opened two days a week for those looking for a quiet escape.'
Niamh Mongey, writer and PR consultant
'There's always loads of life at the market stalls on Thomas Street, and Bounceback on the same street is a go-to lunch spot for the usual café bits with great Mexican options. I've been living here for a year and a half and I work in the area too, so I'm never far away!'
Patrick Kavanagh, brand manager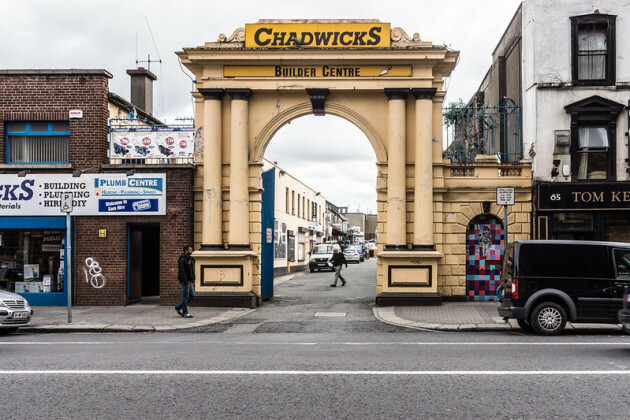 Thomas St, The Liberties

Source: William Murphy/Flickr
'For me, The Liberties is the true heart of Dublin, and it has been my home for 11 years. Every morning I walk my dog along the historic Dublin city wall and then head down Francis St so I can eye up the antiques shops, before grabbing a coffee at the Cathedral Cafe near St Patrick's Cathedral. Although it's in the city centre, the pace in The Liberties is just that little bit slower.'
Brendan Fox, artist
Discover a true hidden gem in the heart of The Liberties – and reunite with friends – with a Cocktail Workshop Experience at Roe & Co Distillery for groups of up to six adults. Learn how to craft whiskey-based drinks, get a tour of the fully operational urban distillery, experience a whiskey tasting and finish with a Roe & Co cocktail at the Power House Bar.
Walking up Thomas St.